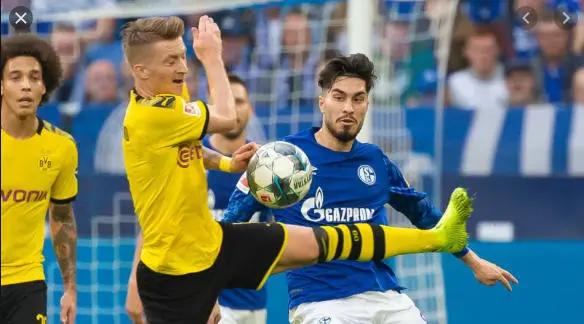 German soccerfinally restarts after a long layoff due to Covid-19 quarantine efforts. Even without fans in attendance, the action is set to be electric headlined by this 6-game Saturday slate. May 16th Bundesliga betting is headlined by the Revierderby between Dortmund and Schalke.
It's arguably the best weekend for betting on Bundesliga not just because soccer is finally back – but because games are going to be unpredictable after a 2 month layoff. Let's get into it:
Borussia Dortmund (-200) vs. FC Schalke (+625) O2.5
The big game headlining restart weekend is 2nd place Borussia taking on Schalke in the Revierderby. We are in matchweek 26 of 34 with Dortmund being 4 points back from 1st place Bayern. Schalke is in 6th place trying to hold on to a Europa League spot.
There isn't bad value at Schalke +625 for this fixture. They won the last meeting in 2019 and fought to a draw in '17 and '16. Borussia had won 4 of 5 prior to the layoff, but have also been idle for 2 months. Schalke had scored just 2 goals in their 4 games prior to the Coronavirus layoff (0-3-1).
Pick: Schalke 04 +1.0 (+110)
Update: Dortmund 4 – Schalke 0
Augsburg (+245) vs. VfL Wolfsburg (+115) O2.5
Augsburg will be fighting an uphill battle in May 16th Bundesliga betting as coach Heiko Herrlich will miss this game after breaking quarantine to buy toothpaste. It might not be that big of a loss for Augsburg though considering Herrlich was only appointed to lead the team 10 days before the Coronavirus lockdown.
Wolfsburg had a draw and two losses in their three games prior to postponement to sit in 7th in Bundesliga. Augsburg is just 1-4 over their last 5 though and a lost cause with the 5th fewest points in the league.
Pick: Wolfsburg +115
Update: Wolfsburg 2 Augsburg 1
Fortuna Dusseldorf (+115) vs. Paderborn (+230) O2.5
Overall Dusseldorf had seen their share of struggles in the pre Covid Bundesliga with a 5-13-7 record through 25 games. Uwe Rosier's squad has gone four straight games without suffering a defeat though (1-0-3).
Fortuna's 22 points in the table so far this year seem measly, but last place Paderborn has even fewer with only 16. Paderborn is on a 4-game losing streak and it's going to be hard for them to get motivated after the long layoff.
Pick: Under 2.5
Update: Dusseldorf 0 Paderborn 0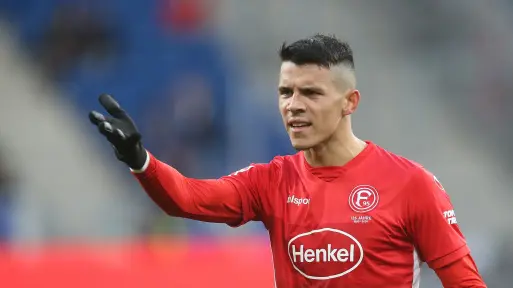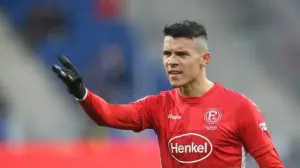 RB Leipzeig (-305) vs. Sport-Club Freiburg (+850) O3
Freiburg hopes that the recent two month layoff has an adverse effect on Leipzeig's smothering defense. Leipzeig had gone 3-0-2 in 5 games prior to the break, allowing just 1 goal over that span. Julian Naglesmann's squad now sits at 3rd in the Bundesliga table, 5 points behind Bayern.
Anything can happen after a long two month layoff and Freiburg offers great return on investment at +850. This is a team that has been shut out in 2 of their last 3 though. A 2-0 or 3-0 Leipzeig win isn't out of the question here.
Pick: Leipzeig -1.5 (-115)
Update: Leipzeig 1 Freiburg 1
Hoffenheim (+120) vs. Hertha-Berlin (+230) O2.5
Hoffenheim may be in the rare category Saturday where the recent two month layoff will help them heading down the home stretch. Hoffenheim is just 1 point out for a potential Europa spot despite being winless in their last 5 (0-3-2).
Hertha is 1-2-2 over their last 5 despite playing the tomato cans of the league in Werder, Dusseldorf, Paderborn, and Mainz over that span. The draw does loom large in this fixture for some reason but Hoffenheim is by far the better squad.
Pick: Hoffenheim +120
Update: Hertha 3 Hoffenheim 0
Entracht – Frankfurt vs. Borussia Monchengladbach (+140) O2.5
There's good ROI on both side winners in this matchup, but as the 4th place team in the table it's hard not to like Monchengladbach at +140 here. This May 16th Bundesliga betting matchup would be good value at -140 considering Borussia is 3-1-1 over their last 5 compared to Entracht's record of 1-3-1 over that span. Frankfurt had been shut out the last two times before the postponement.
Pick: Borussia Monchengladbach +140
Bonus Pick: Under 2.5
Update: Monchengladbach 3 Frankfurt 1