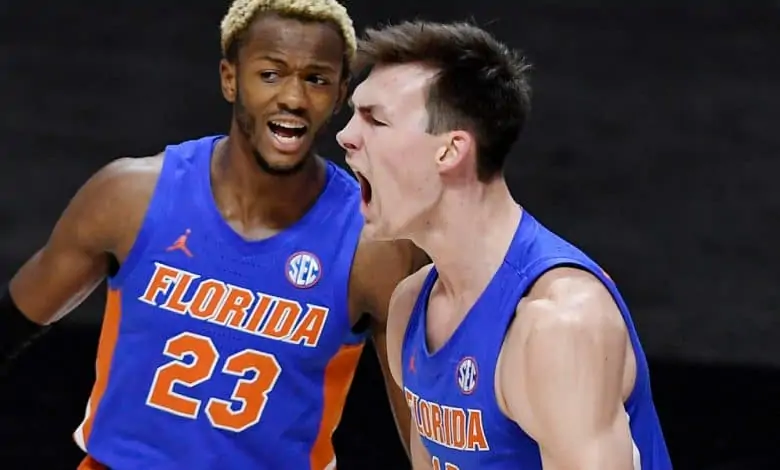 Oddsmakers are expecting the NCAAB Florida at Mississippi State pick to be a close one, calling it a PK. That line would seem to give a lean towards the Gators, who did get 7 votes to move into this week's AP top 25 and are 38th in KenPom ratings compared to 72nd for Mississippi State.
The only thing going against a Gator play on Saturday afternoon is that they are just 1-2 on the road, meeting up with a Bulldogs team that is 6-2 at home. Florida has lost two of their last three, but to very good teams in Alabama and Kentucky. Mississippi State lost by a point to Texas A&M on Wednesday as -7 point favorites however. This one looks like all UF.
Gators Turn a Corner?
Usually a statement win comes against elite competition, but Florida may have posted their biggest victory last time out. After falling by double digits at Alabama and at home to Kentucky, the Gators were facing a 9-point deficit with under 7 minutes left vs. Mississippi in Gainesville on Tuesday before going on a 20-2 run to beat the Rebels 72-62 as -2 point favorites.
Even though that was an expected win, something looks to have changed for the Gators coming into the NCAAB Florida at Mississippi State pick. Colin Castelton went for 21 points and 10 rebounds and has looked like a dominant big man with 20+ in three of the last five. Noah Locke returned from a face injury to hit 3 of 6 three pointers en route to 15 points while Tre Mann added 17.
While the Gators definitely looked great towards the end of the Ole Miss game, they were also bad enough to get down 9 at home to the 4th worst scoring team in the SEC. Florida switched to a man-to-man to get their comeback, but now that's on tape for Mississippi State. The Gators will also likely be without Scottie Lewis (11.0 ppg) again after he missed Tuesday's game for COVID tracing.
Mississippi State a Huge Unknown
The Bulldogs failed to hold what was at times a 13-point second half lead on Wednesday in falling 56-55 at home to Texas A&M on Wednesday. The Rebels continue to be an enigma as they've struggled at 4-5 Vanderbilt (84-81) but beaten #17 Missouri (78-63) and went to OT with Kentucky as the calendar has turned to 2021.
Mississippi State has won two straight in this series, including a 78-71 win in Gainesville last season as +6 point underdogs. The Bulldogs could, or maybe even should, be favored in this tilt as Iverson Molinar has gone for 20+ in three of the last five, D.J. Stewart has 15+ in 7 of the last 8, and Tolu Smith has 15+ in two of the last three. Florida cannot match that offensive consistency after the loss of Keyontae Johnson (heart) for the season and Lewis likely being out Saturday.
Free NCAAB Florida at Mississippi State Pick
Castleton is Florida's best player right now, but Mississippi State has some size to neutralize him wiht 6'11" Abdul Ado and 6'10" Tolu Smith starting in the front court and 7-footer Quinten Post coming off the bench. That's not even the strength of the Bulldogs who get 35 ppg from their starting back court. It makes you wonder why the Bulldogs aren't 4-5 point favorites in this tilt?
Mississippi State 72 – Florida 65
Free Pick: Mississippi State PK