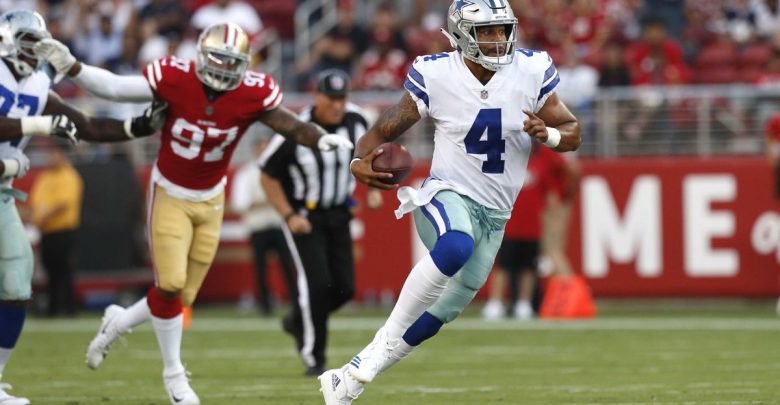 The 49ers are listed at -3.5 favorites in the Dallas vs.San Francisco NFL preseason free pick. This is a matchup of two squads that will largely be missing some familiar faces, even for an exhibition game. Whether it be players returning from injury (or retirement) or others holding out for a better contract Saturday's game will truly be a test of depth. Do the 49ers have enough secondary talent to cover the -3.5?
Dallas Has a Short Trip in This Road Game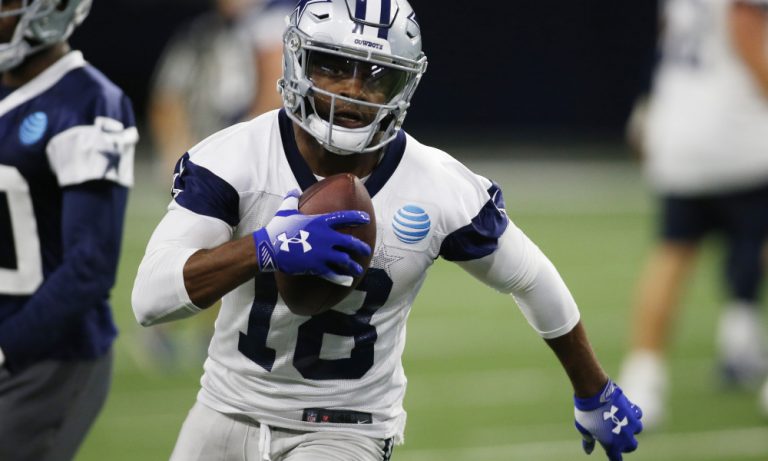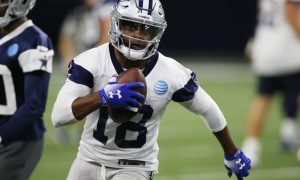 The Cowboys once again set up their preseason shop in Oxnard, California which is about an hour flight to the Bay. That does limit Dallas' travel disadvantage a bit. Zeke Elliott remains in a hold out but he likely wouldn't have gotten much action in the preseason anyways as he didn't have a single carry in the exhibition a year ago. The Cowboys will go with a 6th round pick from 2016 (Darius Jackson) and a 4th rounder from this year (Tony Pollard) for a bulk of the running game.
Dak Prescott was also limited in the '18 preseason, going just 13-18. Prescott may get more reps to build up a rapport with newcomer Randal Cobb and old newcomer Jason Witten. Mike White and Cooper Rush back up Prescott again in '19 and they each had 70+ attempts in the 2018 preseason. One thing the visitors have going in the Dallas vs. San Francisco NFL preseason free pick is familiarity. This begins Jason Garrett's 9th season with the team and he has gone 12-21 thus far in exhibition games. That also includes an 0-4 record a season ago however.
49ers Have Nice Depth This Preseason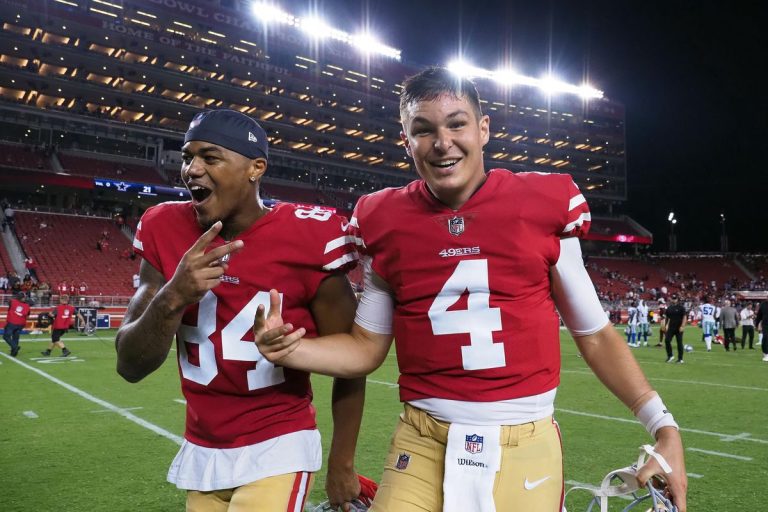 Most people believe the 49ers season rides on the performance of Jimmy Garoppolo as he returns from a season ending knee injury. Garoppolo will not take any snaps in the Dallas vs. San Francisco NFL preseason free pick but Nick Mullens proved to be an unexpected hidden gem as backup signal caller. Mullens started 8 games as a rookie a year ago, throwing 13 TD to 10 INT. Jerick McKinnon was another high profile signing in the 2018 offseason but missed the season with a knee injury. As a result the 49ers got nice production out of Matt Breida a season ago and also now have Tevin Coleman who came over from Atlanta.
The #2 pick in the draft Nick Bosa will not be taking any snaps this preseason. The 49ers defense should still be improved however with underrated signings to the likes of Kwon Alexander, Dee Ford, and Jason Verrett. Kyle Shanahan also enters his third preseason with so far just a 3-5 record to show.
Dallas vs. San Francisco NFL Preseason Free Pick
The Cowboys have a lot of familiarity with their system as Garrett enters his 9th year. Shanahan is able to fine tune his program entering year three however. Dallas brought in some big names like Cobb and Witten, but those established players don't have much to prove in the preseason. The Niners get to go with Mullens and another Q.B with starting experience in C.J. Beathard. That, coupled with a roster that has a lot of wiggle room between 1st and 3rd string gives San Francisco the edge.
NFL Free Pick: San Francisco 49ers -3.5