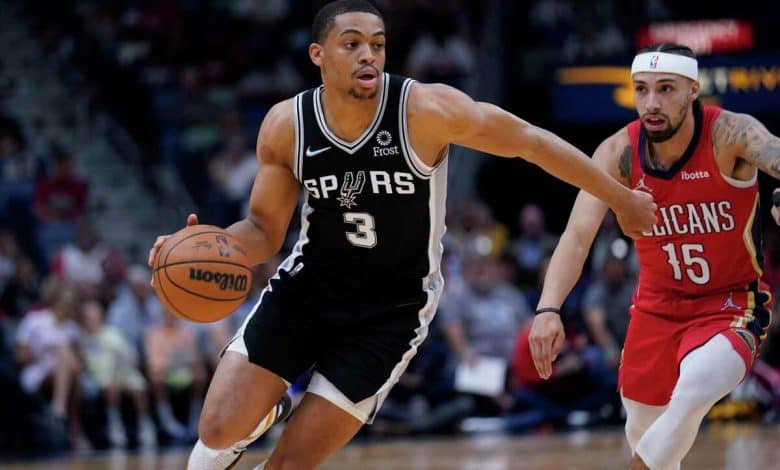 How much will experience come into play in the April 13th Spurs at Pelicans betting contest, as San Antonio coach Gregg Popovich has 284 postseason coaching games under his belt and New Orleans coach Willie Green, 6. The Pelicans were a slightly better team during the regular season though, boasting a 36-36 record on the year while San Antonio was 34-38.
The Spurs did go 3-1 during the season series, taking home a 107-103 and a 124-114 in two trips to the Big Easy. San Antonio did drop three straight games to wind out the regular season, but the Pelicans have also lost three of their last five. Overall this looks like a very even matchup.
Murray Back for Spurs
San Antonio may have lost three straight to close out the regular season, but it was still a fruitful closeout to the year with Dejounte Murray returning for the season finale. The all-star missed five games with a respiratory illness, but was able to log 31:50 in his return and has had a couple extra days to recover.
Having Murray in the lineup gives San Antonio a big boost in the April 13th Spurs at Pelicans betting contest. He not only put up 21/8/9 on the season, but was very solid vs. New Orleans with 18/10/10 in four games.
San Antonio could have an edge on the blocks on Wednesday night with New Orleans' Jonas Valanciunas hobbled recently by an ankle injury and Brandon Ingram fighting through a tricky hamstring. That could make Jakob Poeltl the x-factor, the Spurs 7'1 big man that is averaging 13.7 points and 11.7 rebounds his last three games. PF Keldon Johnson has also been putting up 21.8 ppg and 6.2 rpg over his last 10.
Home Court Has to Help
Both home teams won in the Tuesday play-in games, and Brooklyn and Minnesota each benefitted from playing in front of their own fans in a raucous atmosphere. No place gets as wild as the French Quarter so expect the Smoothie King Center crowd to be amped up for postseason basketball returning for the first time since 2018.
By all accounts Ingram is fine to go after sitting the last three games to rest a nagging hamstring that has cost him 13 of the last 18. Is being so sporadic with playing time lately going to have Ingram in a funk though? Some veteran players don't even like sitting out the regular season finale because it throws off their rhythm, and Ingram has played 5 games since March 6th.
Obviously this is the type of moment that New Orleans brought CJ McCollum in for, as he has averaged 20 ppg in the playoffs – but perhaps more importantly has the experience of playing in 57 postseason games. Perhaps the biggest concern is the health of Valanciunas though, as he has played just 28 minutes over the last four games.
Free April 13th Spurs at Pelicans Betting Preview
The Spurs are getting +5.5 points on Wednesday night, on the road yes but still taking three of four from the Pelicans this season. Murray is going to be the best player on the floor in this contest and the experience of Popovich is going to be invaluable.
Free Pick: Spurs +5.5