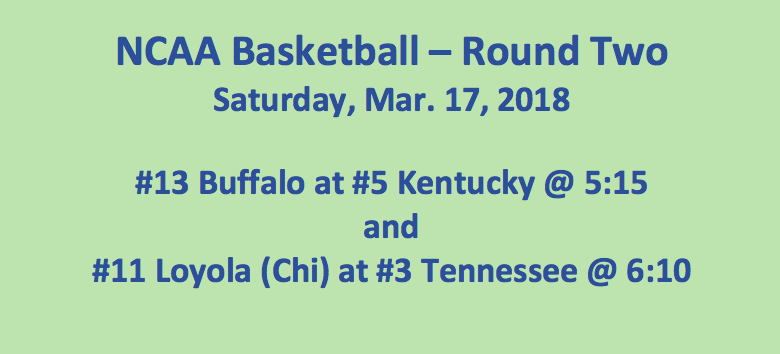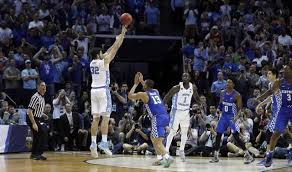 We continue with our picks for the 2018 NCAA Men's Tournament. In this article, we're offering our second group of Round Two 2018 NCAA Tournament Saturday picks. We have included the spread and over/under for both games. By the way, we should have all of our picks for the day, that's four more games and eight predictions overall, online by around 4:30 p.m. E.T.
The first contest in this article offers #13 Buffalo at #5 Kentucky at 5:15 p.m. E.T. The Wildcats are listed at -6.0 and the over/under is at 156. The second game features #11 Loyola (Chi) at #3 Tennessee. That game tips off at 6:10 p.m. E.T. The Vols are -5.0 and the over/under is 131.0.
#13 Buffalo at #5 Kentucky
South Region at 5:15 p.m.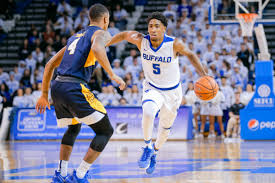 The Buffalo Bulls (27-8) beat #4 Arizona in their Thursday game 89-68. Proving that they are a dangerous team. The Kentucky Wildcats (25-10), who also played on Thursday, had a tougher time with #12 Davidson, winning that match 78-73. This could be a very tight game, as the Bulls have a productive offense and a stingy defense.
When it comes to statistics Buffalo has the edge over Kentucky in points per game (84.9 to 76.8) and points allowed (68.0 to 73.0). Both connect on field goals at a rate of 47% and both teams bring down 39 RPG. The Bulls also have an edge in assists.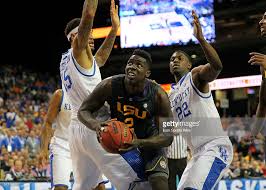 Buffalo has four players who are averaging between 15 and 17 points per game. Plus, three players are taking in from six to seven rebounds per game. Junior guard C.J. Massinburg (16.9 PPG, 7.3 RPG, 47 FG%) is a massive force who's connecting on 40% of his threes. Wes Clark is dishing off 5.4 APG and scoring 15.0 PPG.
The Cats will depend upon three freshmen, forwards Kevin Knox and PJ Washington and guard Shai Gilgeous-Alexander. Knox averages 15.9 PPG and 5.4 RPG and Washington is good for 10.6 PPG and 5.4 RPG. Gilgeous-Alexander is offering 5.1 APG while scoring 14.0 PPG and grabbing 4.1 RPG.
We do expect points to be scored in this one. Kentucky has a weak defense and the Bulls tend to be able to run off a string of points quickly. We're taking Buffalo at +6.0. We like the under at 156.0.
Our Picks: Buffalo at +6.0 and
#11 Loyola (Chi) at #3 Tennessee
South Region at 6:10 p.m.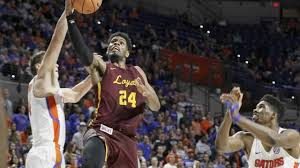 The Loyola Ramblers (29-5) beat #6 Miami in round one 64-62. That was on Thursday. Today they meet the Tennessee Volunteers (26-8). The Vols, who beat #14 Wright State 73-47 in the initial round, have a very tough defense that the Ramblers will have a difficult time penetrating.
The major difference between these two teams is defense. Both are scoring about 73 PPG, but Loyola is allowing opponents 62.0 PPG while Tennessee is giving up 47.0. The Ramblers are good on 51% of their field goals, while the Volunteers are connecting on just 44%. The Vols are better on frees, 76% to 72%, but the Ramblers hold an edge on three-point attempts, 40% to 38%.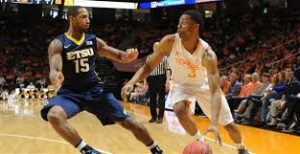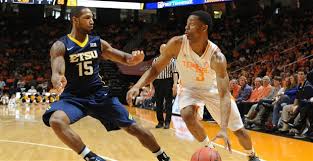 Five Loyola players are scoring in double-digits. Junior guard Clayton Custer tops all scorers, averaging 13.4 PPG, and senior guard Donte Ingram is putting in 11.7 PPG while taking down 6.5 RPG. For Tennessee, forwards Grant Williams and Admiral Schofield capably command the boards with each one taking six rebounds per game while scoring 14 to 15 points per game.
If the Vols can impede the Rambler attack, they'll move onto the next round. We believe that the Tennessee defense will come through and that the Vols will be in charge of the piant. We're going with the Volunteers at -5.0 and the over at 131.0.
Our Picks: Tennessee at -5.0 and over 131.0
Round One 2018 NCAA Tournament Evening Picks: Final Word
We have four more matches to handicap today. Use our Round One 2018 NCAA Tournament evening picks, posted here, to get the best possible value on your bets. We do like Buffalo as a spoiler and Tennessee as a favorite.