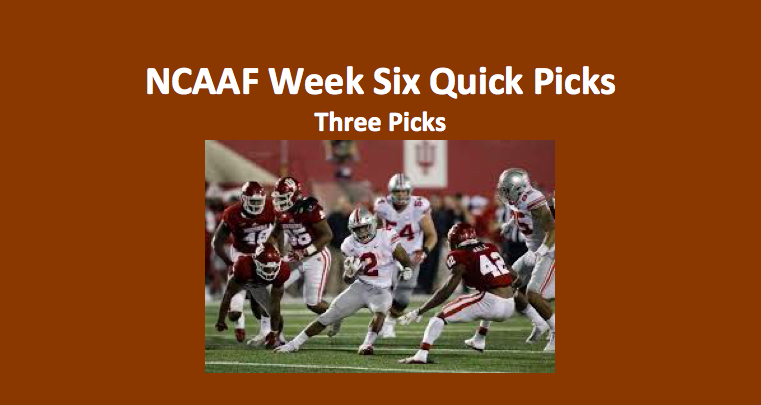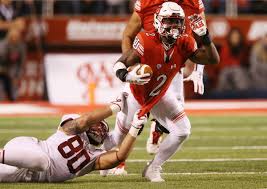 Here we go with three free quick picks for Week Six of the 2018 college football season. We've chosen three games for you to considered betting.
Along with our picks, we also offer a few short insights into each game. Here are our quick Week Six college football picks. In this edition, we've got one over/under and two spread picks for you.
Quick Week Six College Football Picks
Indiana Hoosier at #3 Ohio State Buckeyes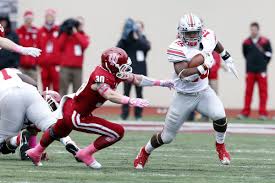 The Hoosiers (4-1) are having a decent season, while the Buckeyes (5-0) are on track to go to the championship series. OSU is -27.0 and the over/under is 64.5. The Hoosiers are 1-4 ATS, while Ohio State is 3-2 versus the spread. We think OSU will take the Hoosiers apart in this one. The game is at 4:00 p.m. E.T.
Pick: Under 64.5
#10 Washington Huskies at UCLA Bruins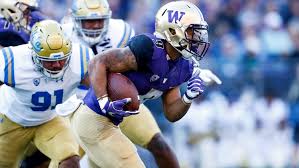 The Washington Huskies (4-1) visit the winless UCLA Bruins (0-4) tonight for a 7:30 p.m. E.T. game. Washington is allowing opponents under 12 points per game. UCLA is giving up 37.8 PPG.
The Huskies are coming off a 35-7 win over #20 BYU. The Bruins last played Colorado. They lost that game 38-16. The spread is 21.0 and over/under sits at 53.5.
Pick: Washington at -21.0
Utah Utes at #14 Stanford Cardinal
The #14 Stanford (4-1) Cardinal host the Utah Utes (2-2) tonight at 10:30 p.m. E.T. Stanford suffered their first loss last week when they player the #8 Fighting Irish of Notre Dame. The final score in that game was 38-17. Stanford has played two other top 25 teams, beating both. The Utes also lost last week. They lost to the Washington State Cougars 28-24. The week prior, the Washington Huskies beat the Utes 21-7. We're tipping towards Stanford in this one.
Pick: Stanford at -4.0
Summary Week Six College Football Picks
For our Week Six college football picks we like the over at 64.5 in the Indiana at #3 OSU game at 4:00 p.m. E.T. We are also taking #10 Washington at -21.0 as they take on UCLA at 7:30 p.m. E.T. Finally, we're going with #14 Stanford against Utah. The Cardinal are at -4.0. That kickoff is at 10:30 p.m. E.T.