College Football
Ole Miss Rebels vs. Mississippi State Bulldogs Free Pick for Week 13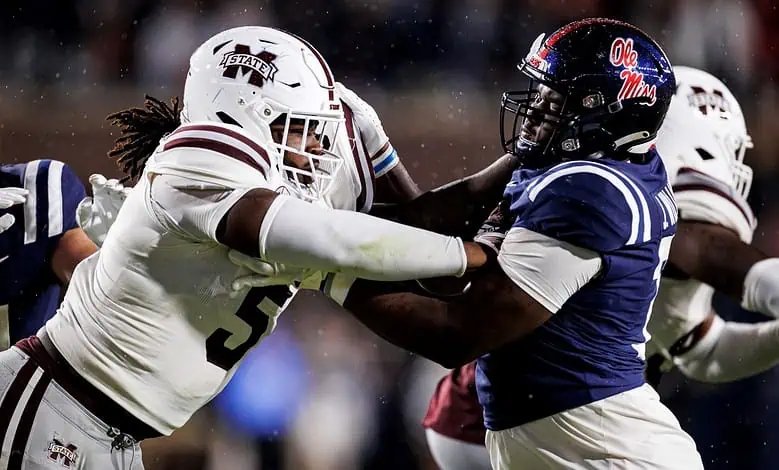 Week 13 of the college football season is reserved for rivalry games, and that's what you are going to get in the state of Mississippi. The Ole Miss Rebels will visit the Mississippi State Bulldogs and there is no love lost between these two programs.
Ole Miss is coming into this game as the 13th ranked team in the country and they have won four of their last five games. The Rebels are sitting at 9-2 on the year, and they can clinch a spot in a big bowl game with another win.
Mississippi State needs to win this game to become bowl-eligible and that adds another layer to this rivalry. The Bulldogs were able to snap a three-game losing streak by picking up a big win over Southern Miss in Week 12. 
Ole Miss is a massive 13.5-point betting favorite over their in-state rivals on Thanksgiving Day. 
Rebels Rolling on Offense
The Ole Miss Rebels come into this game scoring 36.5 points per game, and they can put points on the board in a hurry. Ole Miss is averaging nearly 300 passing yards per game and they are always on the attack when they have the football. 
Quarterback Jaxson Dart has thrown for 2,889 yards and 19 touchdowns this season, and he has also been extremely accurate. The Rebels can also run the football and they are averaging nearly 4.5 yards per carry on the ground. 
This team just tends to run into some trouble on the defensive end, especially when they are playing some good teams. Ole Miss might need to run the ball more in order to give the defense a break. 
Defense Needed For Bulldogs
Mississippi State has had a tough time getting stops throughout the year, and that has impacted the offense as well. The Bulldogs recently allowed 51 points in a blowout loss to Texas A&M, and they have to find a way to get pressure on Jaxson Dart. 
The offense for Mississippi State will need to shine in this game as well, but they are facing a defense that might allow that to happen. Quarterback Will Rogers has had a nice career for Mississippi State and he has some experience in this rivalry game. 
Home field advantage does tend to matter in rivalry games as well, and that will be something to watch in this matchup against Ole Miss. 
Bulldogs Battle in Defeat
There is no doubt that Ole Miss is the better team in this game, but that doesn't always matter in a rivalry game. The Rebels shouldn't have any trouble scoring some points, but Mississippi State will be able to find some success on offense as well. 
This game has had a history of being a game that ends up going down to the wire, and this game won't be a blowout either. Ole Miss will eventually find a way to get some separation, but they will have to play well to get that done. 
Take the 13.5 points and bet on the Mississippi State Bulldogs, but it will be the Ole Miss Rebels that come away with a win in this game.