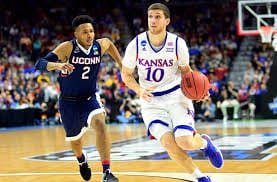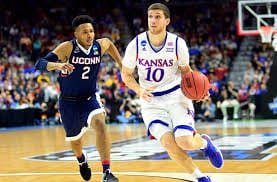 The second of two Midwest Region games on Thursday, Mar. 23 features the #4 Purdue Boilermakers at the #1 Kansas Jayhawks. Both teams won their regular season conference titles by more than one game and both have beaten a club from the other's conference to get to the NCAA Sweet 16. The game tips off at 9:29 p.m. ET. Kansas is at -5.0 and the over/under is listed as 157.0. The Boilermakers will need to play tough against a Jayhawks team that is primed to go all the way. Here's our Purdue plays Kansas Sweet 16 free pick.
To get to this point, Purdue first beat #13 Vermont 80-70 in round one. Going into the locker room at the half, the teams were separated by just one point with the Boilermakers in the lead. In round two, Purdue met #5 Iowa State. Although the Boilermakers seemed to be in control of the game, ISU had a second-half surge. Purdue managed to hold them off and won that contest 80-76.
Kansas is a number one seed and in both games they have played like one, staying in control of the game. In the initial round, the Jayhawks beat #16 UC Davis 100-62. It was easy from start to finish. Kansas then played #9 Michigan State in round two, beating them 90-70. The team's two 2017 March Madness performances should be of a major concern for the Boilermakers.
Purdue Boilermakers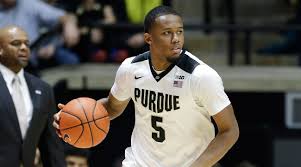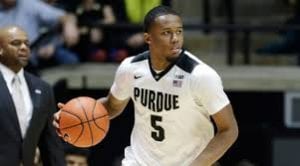 Purdue is averaging 80 PPG and has a shooting mark of 48% and a three-point success rate of 40%. The Boilermakers rely on their big guys to get the job done with national player of the year candidate Caleb Swanigan being their primary guy. He's averaging 18.5 PPG and 12.6 RPG. He leads the NCAA in double-doubles with 28. He'll create major matchup problems for Kansas,
Two other keys for the Boilermakers are 6-8 Vince Edwards, who's averaging 12.7 PPG and hitting 49% of his shots, and at 7-2 Haas, who's averaging 12.6 PPG and has a field goal success rate of 59%. Each is averaging five rebounds per game.
Here's an important note regarding the Boilermakers. They lead the Big Ten and are ranked 12th nationally in scoring differential. That stands at plus-12.6 points per game. Also, another note, they are second in their conference and 13th in the nation in rebounding margin with a plus-7.0 mark. Finally, Purdue is plus-eight percentage points better at the foul line than Kansas.
Kansas Jayhawks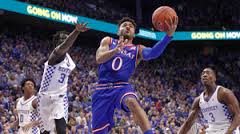 Although Kansas starts four guards, two, Josh Jackson and Sviatoslav Mykhailiuk, are 6-foot-8 with Jackson being a solid inside players. Jackson is averaging 7.1 RPG and 16.6 PPG. Both stats place him second in those categories for the Jayhawks. He's going to be a problem for the Boilermakers. He's tough, determined, and big. Mykhailiuk is good for 3.1 RPG and 9.7 PPG. He's primarily a three-point guy, taking 63% of his shots from beyond the arc and hitting 40% of his attempts.
In the frontcourt, Landen Lucas leads the Jayhawks in rebounds with 8.6 per game. The 64% shooter is putting in an average of 81 PPG. Of course, Kansas has one massive outside player, another guy who's a candidate for player of the year, Frank Mason III. Mason is averaging 20.8 PPG and 5.1 APG. He's a 48% shooter from the field and is hitting 47% of his threes. Also, guard Devonte' Graham, who's getting 13.3 PPG and making 4.3 APG, is a fine shooter and playmaker.
The Jayhawks are averaging 83.0 PPG and 39.0 RPG. They hold an edge on steals and blocks and a slight edge in shooting percentage.
Purdue Plays Kansas Sweet 16 Free Pick
We think that the Boilermakers will keep it close. We also anticipate a lot of points being scored. In our Purdue plays Kansas Sweet 16 free pick, we're taking the Boilermakers at +5.0 and over 157.0.
Purdue Plays Kansas Sweet 16 Free Pick: Purdue at +5.0 and over 157.0