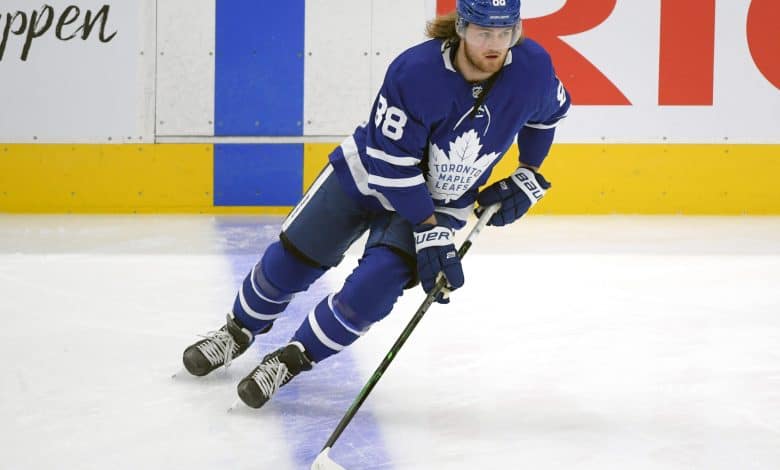 It's been a long 24 hours for Chicago heading into the October 27th Maple Leafs at Blackhawks matchup. The 'Hawks haven't even held a lead this season as they are off to an 0-5-1 start. If that wasn't bad enough general manager Stan Bowman stepped down over how the team handled assault allegations against a former coach while the team is also missing Patrick Kane and Jonathan Toews on Wednesday due to positive COVID tests.
Toronto has had their own horrible start at 2-4-1 but if they lose this one as -210 favorites it's nearly unacceptable. The Maple Leafs have lost four straight but Chicago is also on a six game skid – including three straight at home all as favorites. Do we stay away from this one just because it looks like too easy of a Toronto win?
Time for Toronto to Turn Things Around?
The Maple Leafs have dropped four straight and their defense has been especially bad over the last three allowing 16 goals. What's especially bad about these early season struggles is that Toronto was a -160 or better favorite in three of their last four games.
Toronto is launching with an average of 35 SOG through the first part of the season but they've only been able to slip 2.0 by per game. John Tavares has a mere 3 points in 7 games but the Leafs do have some optimism after Auston Matthews scored his first goal of the season on Monday in a 4-1 loss at Carolina. The October 27th Maple Leafs at Blackhawks meeting is the third straight road game for Toronto.
Chicago is missing some key offensive players on Wednesday night which likely starting goaltender for Toronto, Jack Campbell will take. Campbell has given up 8 goals over his last two starts on the road but is still boasting a relatively solid 2.39 GAA on the season.
Chicago In Turmoil
There's no reason Chicago should win Wednesday night's game which is why they have value at +175 because that's how sports betting works. Sure Toronto is giving up a ton of goals lately, but the Blackhawks have been outscored 14-5 during their current three game losing streak.
Marc-Andre Fleury has been a big reason the Blackhawks have started the year as the #30 team in goals allowed (4.2) as he looks like he's just collecting a paycheck after considering retirement after being traded from Las Vegas in the offseason. Fleury has allowed 4+ goals in all four starts this year, but Chicago is expected to go with Kevin Lankinen in net on Wednesday but he's got just an .884 save percentage in three appearances this season.
Aside from the sexual assault coverup the Blackhawks are dealing with, they also are distracted by coach Jeremy Colliton likely getting the axe in the near future as well as an outbreak of positive COVID tests that have sidelined Toews, Kane, and a couple other Chicago players. If the 'Hawks win this game it's more of an indictment against Toronto than a positive for Chicago.
October 27th Maple Leafs at Blackhawks
Chicago not only shouldn't win on Wednesday night, they don't deserve to with all the allegations surfacing about how they handled two players coming forward with sexual assault allegations that the Blackhawks basically covered up. Throw in the Toews and Kane absences and this one looks all Toronto.
It still wouldn't be a surprise to see Chicago come out on top because that's how the gambling Gods work, but this is a morality play on the Leafs.
Toronto 6 – Chicago 3 
Free Pick: Toronto -1.5 (+120)