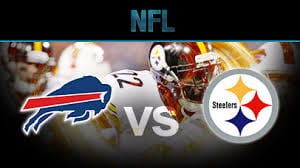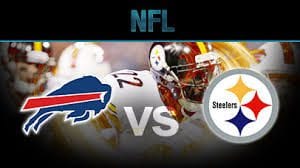 Our Pittsburgh Steelers play Buffalo Bills NFL free pick offers sports bettors a hot game that we think has a lot of value. The game, which has a 1 p.m. kickoff and will be played at New Era Field on Dec. 11, presently has a 2.5 spread. The Steelers are favored in a contest that the Bills (6-6) must win to stay in the running for a wild card. Pittsburgh needs the win, as a victory will offer them the chance to take the lead in the AFC North. Presently Baltimore and Pittsburgh have the same record, 7-5, but the Ravens hold first due to the tiebreaker.
Pittsburgh Offense vs. Bills Defense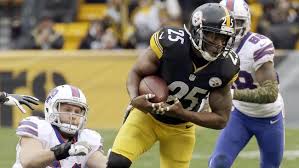 The Steeler offense is generating 24.2 PPG and 378.5 YPG. They've averaged
276.3 YPG in the air and 102.3 on the ground. After going through a four-game losing streak, Pittsburgh has won its last three games. Their last lost was on Nov 13 to the Cowboys 35-30. Since then, they have beaten the Browns 24-9, Colts 28-7 and Giants 24-14.
QB Ben Roethlisberger (65.0 COMP%, 25 TDs, 8 INTs, 16 Sacks) is having a solid season. In his last three wins, he's tossed five TDs and one INT. Roethlisberger has a great group of receivers that includes the highly athletic Antonio Brown (88 REC, 1,052 YDs, 12.0 AVG, 11 TDs). The dynamic Le'Veon Bell (180 ATT, 817 YDs, 4.5 AVG, 3 TDs) anchors the running game. A versatile player, Bell also has 63 receptions for 501 yards and one TD. He's averaging eight yards per catch.
The Bills are allowing teams 22.8 PPG and 364.3 YPG. That includes 248.0 in the air. The Buffalo defense has an impressive 33 sacks, 55 PD, and 12 FF. They have also notched eight picks and 34 TFL. LB Lorenzo Alexander comes into the game with 10 sacks, four TFL, and three forced fumbles. LB Zach Brown leads the team with 116 tackles; he also has three sacks, nine tackles for a loss and two forced fumbles. CB Stephon Gilmore has been especially effective with four picks and 10 passes defended.
Buffalo Offense vs. Steelers Defense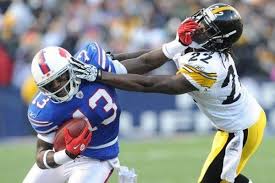 Buffalo has been up and down this season and all around. Over their last five games, they are 2-3. On Oct 30, they lost to the Pats 41-25 and the next week Seattle beat them 31-25. Nov 20 saw Buffalo take down the Bengals 16-12 and the following week they were victorious over the Jags 28-21. Last week, they lost to the Oakland Raiders 38-24.
The Bill offense is definitely rush driven. Of their 356.7 offensive yards per game, 161.9 are on the ground. The other 194.8 are in the air. They are going up against a team that is tough on the run. Buffalo has three solid rushers in QB Tyrod Taylor (73 ATT, 469 YDs, 6.4 AVG, 6 TDs), and RBs LeSean McCoy (174 ATT, 949 YDs, 5.5 AVG, 9 TDs), and Mike Gillislee (64 ATT, 375 YDs, 5.9 AVG, 6 TDs). WRs Marquise Goodwin and Robert Woods have a total of four TDs.
The Pittsburgh defense has been tough on the run, holding teams to 92.0 YPG in rushing. Overall, they're allowing opponents 363.8 YPG and a mere 19.7 PPG. They have 39 TFL and 13 FF with seven recoveries. Their pass defense has posted 60 PD and 9 INTs. They have posted 26 sacks. LB Lawrence Timmons is a top performer, leading the team in tackles (89). LB Ryan Shazier has 1.5 sacks, seven TFL, and three forced fumbles. He's also defended five passes and taken in one INT. CB Artie Burns is a solid performer with two interceptions and nine passes defended. The Steeler defense is deep.
Pittsburgh Steelers Play Buffalo Bills NFL Free Pick
As we consider our Pittsburgh Steelers play Buffalo Bills NFL free pick, we looking at a visiting team that seems to have found its footing again, and a home team that really needs a win. Despite the fact that Buffalo has a killer rush attack, we think that the Steelers' more balanced offense and deep D will control the ball and the game. At this point, we're taking the Steelers at -2.5.
Pittsburgh Steelers Play Buffalo Bills NFL Free Pick: Pittsburgh Steelers at -2.5