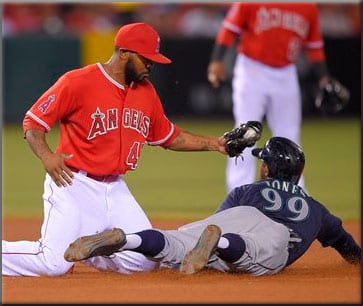 Overview
The LA Angels are in Boston where they take on the Red Sox in the final game of their three game series. The Red Sox haven't had much luck versus the Angels over the past few seasons with just 6 wins over the last 20 meetings.
Head to Head Trends
Angels are 5-1 in the last 6 meetings overall.
Angels are 5-1 in the last 6 meetings in Boston.
Boston Red Sox (-114)
The Boston Red Sox are 4th in the American League East 3.5 games back of the 1st place Tampa Bay Rays. The Red Sox actually got off to a pretty hot start this season winning 6 of their first 8 games but they have struggled since going just 14-21. The Red Sox struggles are due to a combination of bad pitching allowing 4.81 runs per game but more surprisingly they have struggled on offense averaging just 3.95 runs per game.
On the hill for the Red Sox in this one is lefty Wade Miley who is 3-4 with a 5.10 ERA in his 8 starts this season. Miley got knocked around early in the season but he has put together back to back quality starts so maybe he's starting to turn things around.
Boston Red Sox Trends
Red Sox are 3-8 in their last 11 home games.
Red Sox are 16-36 in their last 52 home games vs. a team with a winning record.
LA Angels (+104)
The LA Angels are 2nd in the American League West 5.5 games back of the 1st place Houston Astros. The Angles may be in 2nd place now but I have a feeling come the end of the season they will more then likely finish 1st in the West. The Angels have hit lefties quite well averaging 4.02 runs per game which is better then they do versus righties and they are 7-3 against left handed starters this season.
Starting for the Angels today is another lefty in Hector Santiago who is 3-2 with a 2.25 ERA on the season. Santiago has pitched great so far this season and even though I doubt he can maintain this pace I think this will be a breakout year for him.
LA Angels Trends
Angels are 7-3 in their last 10 games vs. a left-handed starter.
Angels are 55-26 in their last 81 vs. a team with a losing record.
Conclusion
I like the LA Angels over the Red Sox in this one. I think the Angels are the better team overall plus I think they have the edge in starting pitchers but I also like their numbers against left-handed pitching much more then the Red Sox who have struggled to hit lefties.
Free Pick: LA Angels +104