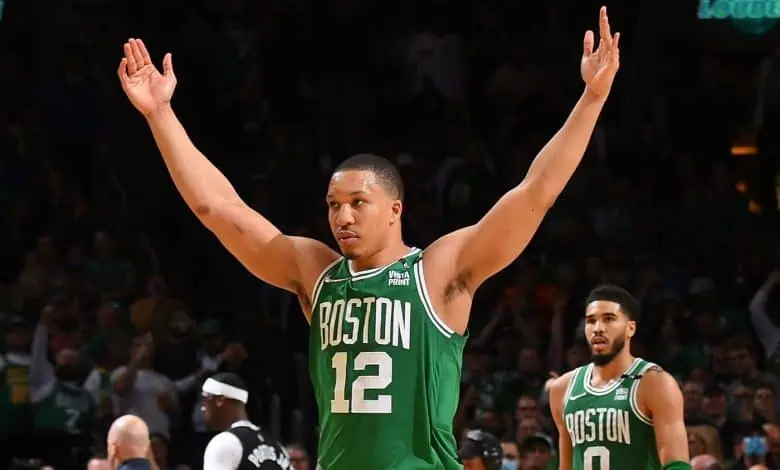 We almost need a recap heading into the Celtics at Bucks game 3 betting matchup as this Eastern Conference Semifinals has been idle since Tuesday. Milwaukee was able to take control of home court advantage by getting the 101-89 upset win in Game 1 as +5 point underdogs, but tumbled 109-86 in Game 2 with a line of the Bucks +4. Milwaukee is a -1.5 favorite on Saturday afternoon.
Milwaukee probably would have rather played Thursday or even Friday, because the extra down time has allowed Boston to get one of their best defenders Marcus Smart back from a quad injury that cost him Game 2. The Bucks could also get George Hill (abdomen back) but Khris Middleton will likely miss this entire series.
Celtics Defense Gets a Boost
Smart is an elite defender but Boston really didn't skip a beat without him in Game 2, holding Milwaukee to 86 points and just 17% shooting from three point range. the Celtics absolutely harassed Kevin Durant and Kyrie Irving for most of their opening round series against the Nets, and have proven why they are the NBA's top unit in defensive efficiency.
One major question for the Celtics at Bucks game 3 betting matchup is if Boston's own prominent perimeter shooting can travel. The C's hit a franchise record 20 three-pointers on Tuesday night shooting 47% from beyond the arc. That includes Grant Williams and Payton Pritchard combining to go 8-13 from three off the bench.
Milwaukee almost stands no chance if Boston's reserves continue to contribute like they did in Game 2. That's because the duo of Jaylen Brown and Jayson Tatum each dropped in 29+ and were a combined 11-20 from three. Ime Udoka has discovered a weakness in Milwaukee's perimeter defense, now it's time for the Bucks to adjust.
Milwaukee Tries to Keep Their Edge
The Bucks stole one in Boston, but now the main objective is to hold on to that home court advantage. Milwaukee was 28-13 at Fiserv Forum during the regular season, but did lose one at home to Chicago in the first round of these playoffs.
Even though the Celtics shut down Durant in the first round, Giannis Antetokounmpo has had a great start to this series. The MVP had a 24/13/12 triple-double in the series opener and followed that up with 28 points on Tuesday night. That 28 points wasn't enough to get the win in Game 2 though, so does Milwaukee need more from Antetokounmpo – or the players around him?
If the Celtics are indeed starting to figure out Antetokounmpo a bit, who else steps up for Milwaukee in Middleton's absence. Jrue Holiday had 25 points in Game 1, but shot just 1-6 from three and finished with 19 in Game 2 – and that was when Boston didn't have Smart in the lineup.
Free Celtics at Bucks Game 3 Betting Pick
How much of an advantage will being back home have for the Bucks? Milwaukee took one in Boston and one would think they have a great chance of going up 2-1 after Saturday's matchup. The Bucks will shoot much better at home, and Antetokounmpo will be his usual great self.
Free Pick: Milwaukee Bucks -1.5