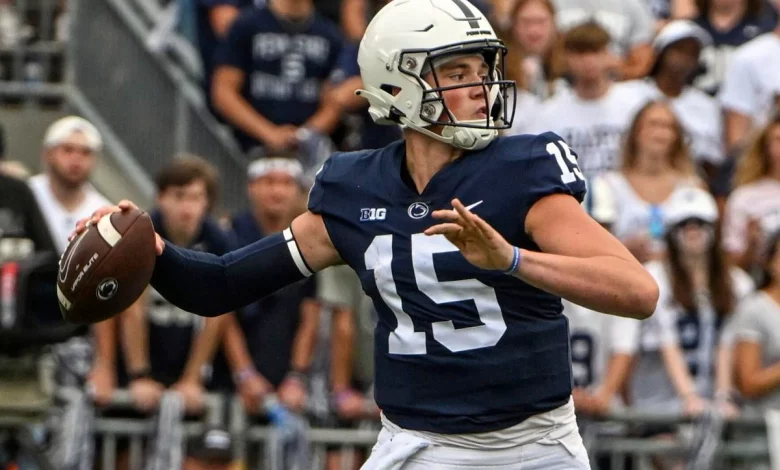 The biggest game on the college football schedule this weekend will take place in the Big Ten as the Penn State Nittany Lions are set to visit the Ohio State Buckeyes. This is a battle of two top-ten teams, and the winner will remain in the race in the East Division.
Penn State has been better than expected this season, and they have climbed all the way up to number seven in the most recent rankings. The Nittany Lions are still missing a signature win, but that could change on Saturday.
Ohio State has been a top-five team since the preseason, and the Buckeyes have had little trouble in going 6-0. This Buckeyes team can't afford to slip up, though, and they will have a ton of pressure on them in this matchup.
The Ohio State Buckeyes are five-point betting favorites over Penn State on Saturday afternoon in Columbus.
Penn State Wants to Defend
While the offensive numbers for Penn State this season have been impressive, this team wants to win games on defense. Penn State is holding opponents to less than 195 yards per game, and they have completely shut down most teams on their schedule.
The Nittany Lions are extremely tough when it comes to stopping the run, but the secondary will have to stand tall in this matchup. Penn State can give their defense a fighting chance in this game by running the football and controlling the clock.
Quarterback Drew Allar has been great this season, as he has thrown for 1,254 yards and 12 touchdowns this season. Penn State would love to slow this game down and control the tempo, but they also need to score as well.
Buckeyes Are Explosive
The Ohio State Buckeyes are coming into this game averaging 440 yards of total offense, and they do most of that damage through the air. It helps having Marvin Harrison Jr. on the roster, as he is one of the best players in the country.
Harrison Jr. has 31 receptions for 604 yards and five touchdowns this season, and he makes his presence felt in every single matchup. Look for Ohio State to mix in some runs on Saturday as a way to keep the Penn State defense honest.
Ohio State hasn't exactly been dominant on defense this season, but they have been more than good enough. That unit simply needs to keep from giving up big plays, and Ohio State will be on the road to success.
Buckeyes Blow Out Nittany Lions
Even though Penn State has been impressive in going 6-0 so far this season, they are a team that hasn't been challenged at all. That is going to change in a big way this weekend, and they just won't be able to find enough offense to win.
This Ohio State roster knows what it's like to play in a big game, and they have a clear advantage when it comes to playing at home. The Buckeyes are going to light up the scoreboard in this one, and their defense will be just good enough.
Bet the Ohio State Buckeyes -5.0 as they are going to roll to a top-10 win to move to 7-0.