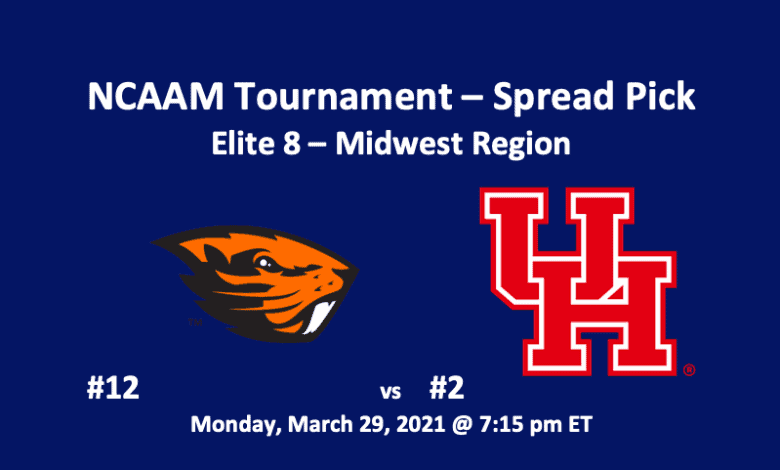 Our Oregon State vs Houston pick has the Cougars as the favorite. The best point spread for Houston is -7.5 (-110). As far as the underdog Beavers are concerned, you'll find them at +8.0 (-110). By the way, the Beavers have been the underdog in each of their three tournament contests. Oregon State made it to this 2021 NCAAM Tournament Elite 8 Midwest Region game by first beating the #12 Winthrop Eagles 73-63 and then by defeating the #13 North Texas Mean Green 84-61. In Round Three, they took down the #8 Loyola College Ramblers 65-58. The Houston Cougars won their first game against the #16 Hartford Hawks 79-55, and in the second contest, they were victorious over the #9 Wisconsin Badgers, taking them down 76-63. In Round Three, they hammered the #11 Syracuse Orange 62-46.
The Beavers and Cougars will meet on Monday, March 29 at 7:15 pm ET. The game will be held at Lucas Oil Stadium in Indianapolis, IN. Also, see our South Region Elite 8 pick for Monday as the #3 Arkansas Razorbacks take on the #1 Baylor Bears at 9:57 pm ET. That game will also be played at Lucas Oil Stadium in Indianapolis, IN
Oregon State vs Houston Pick – Stats
Although the Cougars come in with overall better stats than the Beavers, the same can be said of every team that has met Oregon State in these playoffs. Oregon State is averaging 70.8 PPG, while Houston is putting up 76.9 PPG. The Cougars are better on rebounds (40.9-34.5), blocks (4.7-3.6), and steals (8.2-5.8). They are also a tad better on field goal percentage (44.1-43.5). When it comes to points allowed, Houston is holding opponents to just 54.0 PPG. The Beavers are allowing 61.3 PPG. The Cougars are also a tad better on three-point percentage (36.1-35.3) and the Beavers are a bit better on free-throws (75.8-74.1).
Key Players
The Beavers are led by guard Ethan Thompson who's averaging 15.8 PPG and 3.9 APG. Across from him, Jarod Lucas is good for 12.9 PPG. Both are shooting better than 33% from downtown. Also, in the backcourt, Zach Reichle is averaging 7.4 PPG and 3.1 RPG. In the paint, forward Warith Alatishe is recording 9.6 PPG and 8.7 RPG. He's a 51% field-goal shooter. Center Roman Silva and forward Maurice Calloo are both averaging just over five points per game.
The Cougars are loaded with guards who can put double-digits on the scoreboard. Quentin Grimes is recording 18.0 PPG. He's also grabbing 6.0 RPG. Also, at guard, Marcus Sasser is putting up 13.3 PPG, while DeJon Jarreau is good for 10.8. Jarreau is also averaging 4.3 APPG and 5.4 RPG. Around the rim, Justin Gorham is recording 8.6 PPG and 8.6 RPG. He completing 51% of his field goals.
Oregon State vs Houston Pick – Final Thoughts
Our Oregon State vs Houston pick is the Beavers at +8.0. At the very least, we think that Oregon State will keep up with the Cougars. They have the scorers, and they match up well against Houston.
#12 Oregon State Beavers vs #2 Houston Cougars
Oregon State Beavers at +8.0 (-110)