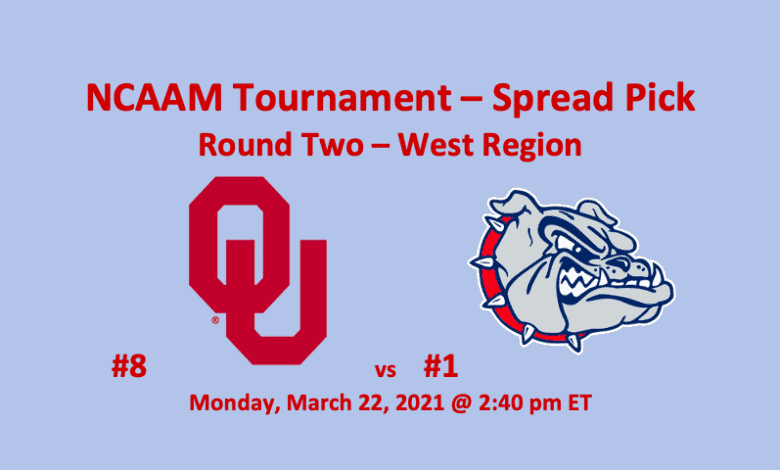 This Oklahoma vs Gonzaga pick notes that the Sooners are in the underdog position. Then again, what team isn't considered to be the underdog when playing the Bulldogs? This 2021 NCAAM Tournament West Region Round Two game has the Oklahoma Sooners at +14.5 (-115). The best line for the top seed Gonzaga Bulldogs is -14.0 (-111). In Round One, Oklahoma beat the #9 Missouri Tigers 72-68. Over their last five games, they've won two games and lost three. The Gonzaga Bulldogs, who've won all of their games this season, beat Norfolk State 98-55 in Round One.
The Sooners and Bulldogs will meet on Monday, March 22 at 2:40 pm ET. The game will take place at Bankers Life Fieldhouse in Indianapolis, IN. Make sure you check out all of our March Madness picks, as we've got every game covered including Oregon and Iowa.
Oklahoma vs Gonzaga Pick – Stats
The Sooners' stats are good, but they in no way match up with Gonzaga's numbers. Oklahoma is putting up 74.8 PPG, pulling down 36.3 RPG, and dishing off 13.4 APG. On the other hand, the Zags are averaging 92.1 PPG, 37.9 RPG, and 18.3 APG. The other two areas where these two teams are disparate and favor Gonzaga are field-goal (55.1- 44.2) and three-point percentage (36.5-33.8). The Sooners are 1.7 percentage points better than the Zags.
Key Players
Oklahoma will depend on the efforts of guards Austin Reaves and De'Vion Harmon and forward Brady Manek. Reaves is tops on the team with 17.9 PPG and 4.8 APG. Plus, he's grabbing 5.6 RPG. Harmon, who's shooting 47.7% from the floor, is posting 12.9 PPG and 3.4 RPG. Finally, Manek, who's shooting 37.6% from downtown, is good for 11.2 PPG and 5.0 RPG.
The Zags are loaded with players who can shooting anywhere from 50 to 65% from the floor and 30 to 46% from downtown. Forwards Corey Kispert and Drew Timme are top-notch shooters, averaging 19.3 and 18.4 PPG respectively. Together, they're grabbing 12 RPG. Kispert is shooting 45.6% from downtown. In the backcourt, Jalen Suggs ably commands the team. Suggs is averaging 4.4 APG, 5.4 RPG, and 14.0 PPG. Guard Joel Ayayi is recording 11.9 PPG, 7.0 RPG, and 3.0 APG.
Oklahoma vs Gonzaga Pick – Final Thoughts
Our Oklahoma vs Gonzaga pick is clear and simple. It's the Zags. They are simply loaded. We like the Gonzaga Bulldogs at -14.0 (-111).
#13 Oklahoma Sooners vs #5 Gonzaga Bulldogs
Gonzaga Bulldogs at -14.0 (-111)