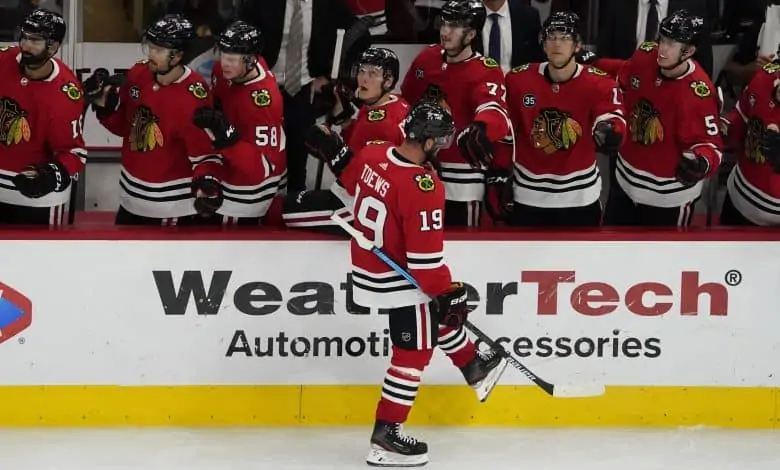 Colorado is a -185 favorite heading into the October 13th Blackhawks at Avalanche season opening matchup but is that price a bit on the high side? The Avs did win the President's Trophy with 82 points last year but will look a little different to start the 2021 campaign. Nathan Mackinnon is out for COVID protocols and Phillip Grubauer, the stalwart in net the last three seasons, signed with the Seattle Kraken.
Chicago (+165) is in a tough spot opening their season at Ball Arena where the Avalanche were 22-4-2 last season. This is also the first game playing in front of a full capacity crowd for the Blackhawks whose last road game saw about 4,500 fans late last year in Carolina. Can that energy be a good thing for the 'Hawks though?
Hawks Optimistic for Season Opener
Some would say it's a rough draw to open up the year at Ball Arena for Chicago in the October 13th Blackhawks at Avalanche matchup. As it turns out though this may be the perfect time to play the Avs for Jeremy Colliton's team considering that Nathan Mackinnon will be out for Colorado after a positive COVID test and they send Darcy Kuemper out in net for his team debut.
There should be a lot of pomp and circumstance for Colorado on Wednesday night as they welcome their captain Jonathan Toews back from missing last season with an immune deficiency disorder and also debut new goaltender Marc-Andre Fleury, acquired in a trade with Vegas in the offseason. Toews is said to be healthy and was averaging nearly a point a game through 2018-20 and Fleury is the reigning Vezina Trophy winner as the league's top goaltender.
Chicago also acquired defenseman Seth Jones (a recent 2022 Olympic team addition) to replace the departed Duncan Keith. All of those additions added to the core of Patrick Kane, Alex Debrincat, Dominik Kubalik, Dylan Strome, and Kirby Dach make the Hawks a very formidable opponent on Wednesday night (10:00 PM ET, TNT).
Kuemper Era Begins in Colorado
Chicago isn't the only team debuting a new goaltender on Wednesday night as Colorado's Darcy Kuemper takes the reins for Philipp Grubauer who signed with the Seattle Kraken in the offseason. It's a tough situation for Kuemper as he replaces a fan favorite in "Gruuuub!" who also happened to be a finalist for the NHL's top goaltender last season.
Kuemper also goes from largely working in a platoon situation early in his career in Minnesota or with lower expectations over parts of four seasons with Arizona to being the starting goaltender for the Stanley Cup favorite. Kuemper has also played just 57 games total the last two seasons while battling various injuries, and his main backup Pavel Francouz missed all of last season after hip surgery and is out for the opener with an ankle injury.
Colorado had the #1 scoring offense in the league last season and has the best top line in the league with Mackinnon, Gabriel Landeskog and Mikko Rantanen combining for 183 points last season. Mackinnon is a huge facilitator of that success though with 45 assists last year, so can the Avs get by without him?
October 13th Blackhawks at Avalanche Pick
There's really not much value on Colorado with the -185 price tag considering they are missing Mackinnon and debuting Kuemper. Chicago meanwhile gets their captain Toews back, has one of the best scorers in the league in Kane, and sends the reigning Vezina Trophy winner in net.
Blackhawks 3 – Avalanche 2
Free Pick: Blackhawks +1.5 (-145)