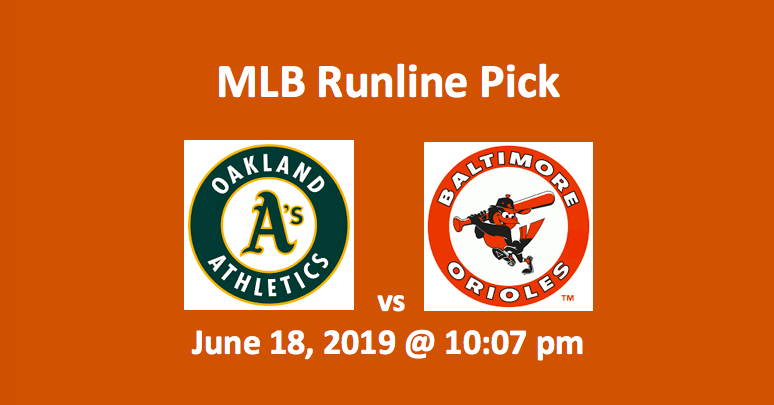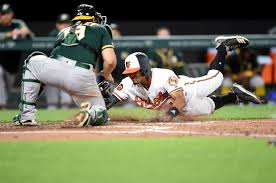 Our Oakland A's vs Baltimore Orioles runline pick notes the A's are 4-and-1 versus the Birds. This Oakland A's vs Baltimore Orioles MLB prediction for Tuesday, June 18, 2019 has the Athletics moneyline at -212 and the Orioles at +196. On the other hand, the runline offers Oakland at -112 (-1.5) and Baltimore at +100 (+1.5). As a consequence, we think there's decent value in the runline when betting on Oakland. This game, which will be played at the Oakland Colesium, has a 10:07 pm ET start.
The Baltimore Orioles (21-51 Overall, 12-23 Away), who hold the worst record in MLB, are last in the AL East. As of late, they have lost six in a row and are 2-8 for their last 10 games. At the same time, the Oakland Athletics (37-36 Overall, 20-17 Home) are third in the AL West. They are 11 games behind the division-leading Houston Astros. The A's, who are 2.5 games away from a wild card berth, have won five or their last 10 games.
Oakland A's vs Baltimore Orioles Runline Pick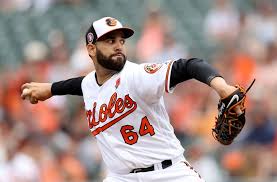 Righty Gabriel Ynoa (0-3 W/L, 5.02 ERA, 1.43 WHIP) starts for the Birds tonight. Ynoa, who has never faced pitched against the Athletics, has pitched decently since coming out of the bullpen on May 27 of this season to start. Over 20 innings, he has allowed just 10 earned runs. However, the Oriole bullpen has failed him. As a starter this season, he is 0-2-2. In his last start, which was on June 13 against the Toronto Blue Jays, he lasted five innings allowing three runs on seven hits, including three homers. Baltimore lost that game 12-3.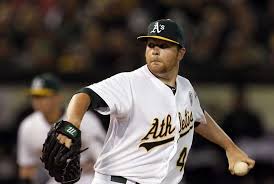 Brett Anderson (6-4 W/L, 3.89 ERA, 1.37 WHIP), a lefty, gets the nod for the Athletics. In May, Anderson was 3-1-1. In each of his three wins, he pitched 5.1 or more innings and allowed just one run. However, in June, he's been struggling a bit, recording no wins, one loss, and two no-decisions. The A's did win both of those no-decisions. In his last start, which was on June 12 in a 6-2 Oakland win against Tampa Bay, Anderson went 6.1 innings as he allowed two runs on seven hits. He struck out four, walked one, and gave up no homeruns.
Anderson has faced the Orioles once this season. In that game, which was on April 9 in Baltimore, he gave up two runs on seven hits over 6.1 innings. He struck out four, walked one, and did not allow any homers. Anderson won that game 12-3. That marked his first win in four starts against Baltimore. His career ERA versus the Birds is 6.00 ERA.
Athletics vs Orioles Stats and Offense
It starts with the RS/RA differential. In that regard, Oakland's comes in at +23, while Baltimore's is -152. Also to note, the A's are hitting .245 and have smacked 109 homers. Baltimore is batting .238 and have hit 87 round trippers. The difference between these two teams in opponent batting average is huge. Teams are hitting .269 against Oriole hurlers. The A's OBA comes in at .242. Oakland pitchers have given up 87 homeruns. The guys on the mound for Baltimore have allowed 141 round trippers. That's the most in MLB.
Trey Mancini is Baltimore's primary offensive weapon. He leads the team in batting average (.309), OBP (.363), and hits (84). Mancini is tied with Renato Nunez for the homerun lead with 16. He has has recorded 35 RBI. In addition, Dwight Smith Jr. who's hitting .249, leads the team in RBI with 41, while Renato Nunez has driven in 38 runs. Nunez is batting .239.
For Oakland, Marcus Semien tops the team with a .280 BA and 83 hits. He's driven in 36 runs and smacked 10 round trippers. Matt Chapman has poked 16 homeruns and Khris Davis 15. They each have accumulated 37 RBI. Jurickson Profar leads the A's in RBI with 39.
Our Oakland A's vs Baltimore Orioles Runline Pick
As can be seen, there's no doubt about it that the Orioles are struggling in many ways. First of all, they have issues with their bullpen, which has an ERA of 5.62. Plus, their hitters continue to struggle. For Oakland, Anderson is overall a solid starter. In the past, he's had a tough against Baltimore. However, his last outing versus the Birds was top-notch. As a result, our Oakland A's vs Baltimore Orioles runline pick is the Athletics at -112 (-1.5).
Summary MLB Runline Pick – Oakland A's vs Baltimore Orioles
Oakland A's runline at -112 (-1.5)