NHL Picks
Arizona Coyotes at St. Louis Blues Betting Preview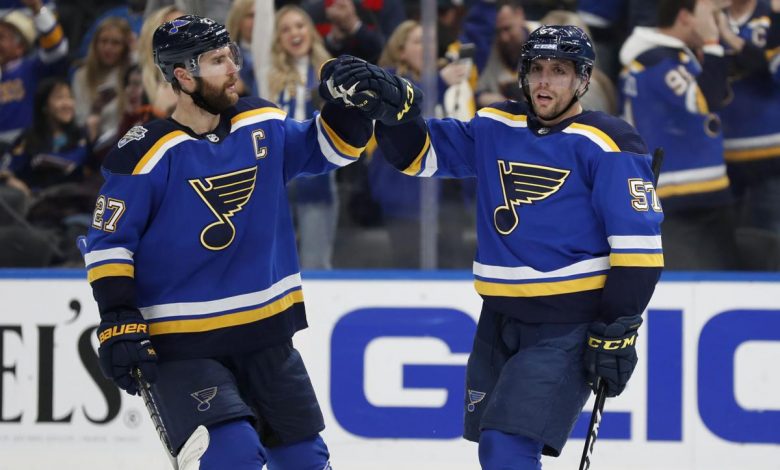 Two playoff teams who have recently went though rough patches will try to get back on track tonight in St. Louis, as the St. Louis Blues (33-17-10) will host the Arizona Coyotes (30-25-8). This is the third and final matchup between these clubs this season, with Arizona taking the previous two.
Here is a preview for tonight's game, along with odds and a free pick.

By the Numbers
Although the Coyotes have just four wins in their last 10 games, they have won two of their last three against the playoff-seeded Capitals and Islanders. This season, Arizona is just 25th in goals per game with 2.68, on an average of 31.5 shots. Their shooting percentage of 8.5 is a lowly 27th in the league, while their 19.4 power play percentage is 19th.
On defense, the Coyotes fare much better. Their 2.63 goals allowed is the fourth-lowest in hockey, even through they are giving up a fairly-high 32.3 shots per game. Their penalty kill rate of 82.8 percent is also excellent, ranking seventh, while also averaging the fewest penalty minutes per game with 6.6.
The defending-champion Blues have hit a wall, losing five in a row and seven of nine before shutting out the lowly Devils on Tuesday. St. Louis has now fallen to 13th in goals per game with 3.15, also ranking 22nd with 30.7 shots. They do, however, still have a top-10 shooting percentage of 10.3 and the third-best power play rate at 24.3 percent.
Defensively, St. Louis is just inside the top-10 with 2.82 goals allowed. Their 30.1 shots allowed is the seventh-lowest in hockey, while they also so a good job of staying out of the penalty box like Arizona. Their penalty kill has taken a hit recently though, and now ranks 18th at 79.4 percent.

Who to Watch

The Coyotes are starting to get a strong return on investment for their superstar Taylor Hall. Hall, who was acquired from the Devils in mid-December, scored his 15th goal of the season yesterday against the Stars. The former-MVP also had assists in two of the previous three contests, giving him 33 helpers on the year. Even though he has yet to go more than two games without a point during his Coyotes tenure, Hall heating up will be the biggest push Arizona needs to make the postseason.
Other notable players who are coming in with some momentum include Christian Dvorak and Jacob Chychrun. Dvorak has set a career-high in points with 38 after netting two goals and two assists over his last five games. The 23-year is close to a 20-20 season, with 30-30 not outside the realm of possibility. As for Chychrun, even though his five-game point streak recently snapped, he responded nicely with two assists against the Capitals. The 21-year old defenseman now has 12 goals and 14 assists in 63 games.
St. Louis' offense recently has been coming from an unlikely source. Veteran winger Zach Sanford recently had the game of his life, scoring four goals last week against the Golden Nights. He then followed it up the next game with a goal against the Predators. Sanford now has career-highs in goals (13) and points (26), and as he continues to see top-six minutes, it will be fascinating to see how long his goal-scoring can continue.
Even though Sanford has been red-hot, he has some more well-known teammates who have been playing good hockey as well. The first is defenseman Alex Pietrangelo. After a slow start in February, St. Louis' captain has responded with three assists in the last four games.
Pietrangelo now has 34 assists to go along with 13 goals through 60 games. In addition, forward Jaden Schwartz is aiming to cross the 20-goal mark as soon as tonight. With two goals in his last four games, Schwartz is up to 19 goals in 60 games, along with 27 assists. Perhaps he can continue to find the net tonight in a big home game for his team.

Goalies
Arizona will likely head into tonight with Antti Raanta in net. Raanta is 13-13-3 with a 2.70 GAA and .919 save percentage.
Meanwhile, St. Louis is expected to counter with Jordan Binnington. Binnington is 25-11-7 with a 2.66 GAA and .910 save percentage.

Odds and Pick
With the game in St. Louis and the team fresh off of a shutout win, the Blues are big favorites tonight at -200. They have been very good at home this year with a record of 19-6-5, while the Coyotes are 15-14-4 on the road.
There's a lot of like about both teams, especially on defense. However, I'm giving a slight edge to the Blues. They are coming off of a smothering effort against New Jersey, and now have defensive reinforcements in the form of new acquisition Marco Scandella. It will be difficult for the Coyotes to generate a lot of shots against the stingy St. Louis defense, and I think there is just enough offense on the home team to be able to beat Raanta. Give me the Blues -200 tonight.