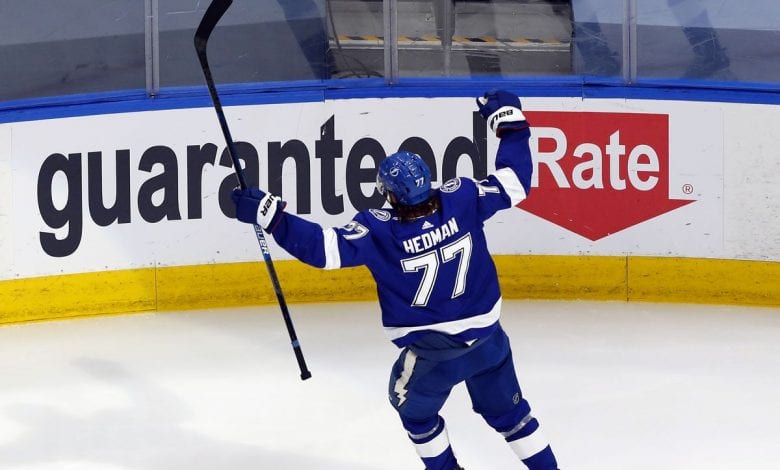 Oddsmakers continue to disrespect Dallas heading into Stars vs Lightning game 2 betting. Rick Bowness' team is an underdog for the 13th straight game this postseason, a span in which they've gone 9-4. The Stars got off to a 1-0 lead in the Stanley Cup Finals thanks to a 4-1 win on Saturday night.
Can oddsmakers trust Tampa Bay at -156 on Monday night? The Lightning went to OT in their last two games vs. the Islanders and dropped the series opener to Dallas. 63% of public bettors still like the Lightning though and TB is 12-5 so far this postseason. Oddsmakers are also expecting a low scoring affair with a betting total of 5.
Stars Riding Khudobin to Success
Dallas has no problem being an underdog in game two, as they've won six of the last seven overall this postseason all with the opponent favored. Dallas had the edge on Saturday having played their entire playoffs at the Rogers Center in Edmonton and being off since last Monday's elimination of Vegas.
Regardless of being the rested team more familiar with the home ice, it's hard to overlook another stand-on-your-head performance from Dallas goaltender Anton Khudobin in game one. The second-stringer filling in for injured Ben Bishop stopped 22 shots in the 3rd period alone in game one in stonewalling 35 of 36 Tampa Bay SOG.
Khudobin has now faced 33+ shots in four straight games – all Dallas wins. The Stars have to be confident in their ability to get to Andrei Vasilevskiy in game one, the three goals scored by Dallas was just the second time in the last 10 games that the Tampa Bay goaltender allowed more than 2 goals. Even more impressive for Dallas is that their 4-1 win (one empty netter) came on just 19 shots.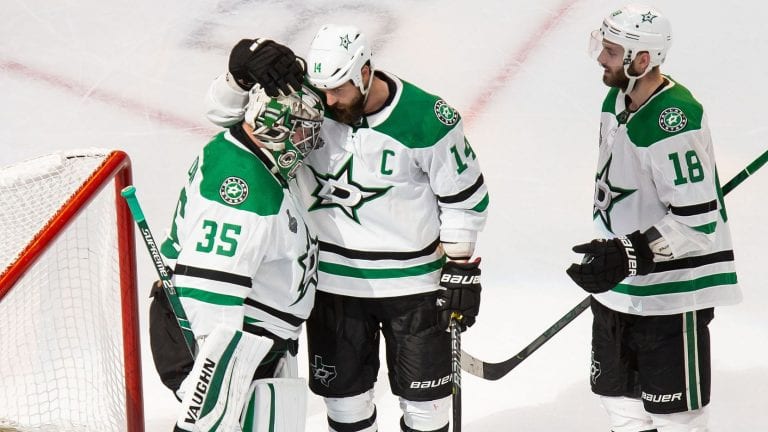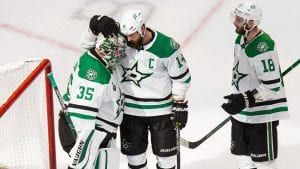 Tampa Bay Offense Struggling
The potential is there for the Lightning scoring attack as they did lead the NHL in goals per game with 3.5. Tampa Bay has been stifled over the last three though, scoring just four total goals. Tampa Bay is just firing at will instead of choosing their opportunities as the SOG the last three have been 37, 48, and 36.
Victor Hedman has been great with two of the Tampa Bay goals over the last three but he's not getting much help. Steven Stamkos has been out since prior to the restart and Nikita Kucherov hasn't scored in five games.
There are some reasons to think Tampa Bay bounces back in Stars vs Lightning game 2 betting. Jon Cooper's team had a quick turnaround Saturday, having to travel from Toronto to Edmonton after eliminating the islanders on Thursday. The Stars were much more familiar with Rogers Place as well, playing there the entire 'bubble' starting back in early August.
Stars vs Lightning Game 2 Betting Free Pick
Tampa Bay is expected to bounce back in game two after being more comfortable playing at Rogers Place and in a more normalized schedule after the quick turnaround from Thursday's game 6 win over the Islanders. -156 is a huge price to pay against Khudobin though. With a bounce back game from Vasilevskiy, this one should stay under the total of 5.
Lightning 3 Stars 1
Free Pick: Under 5