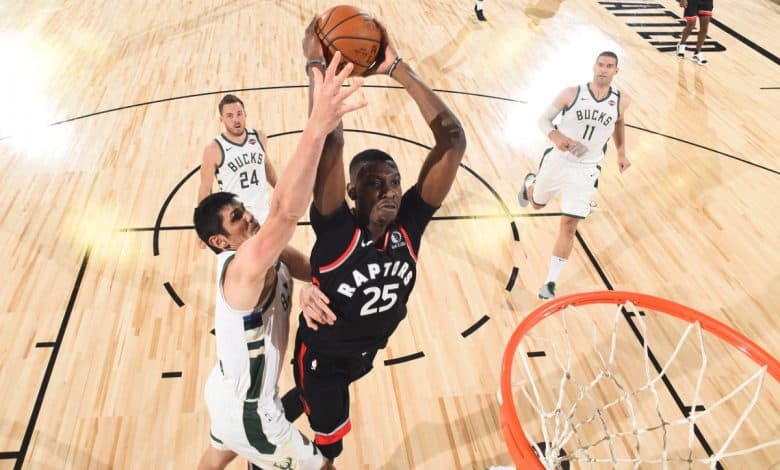 The February 18th Raptors at Bucks matchup won't require a lot of game planning, as the two teams just met each other on Tuesday in a 124-113 Toronto win. Milwaukee was a bit blindsided by Toronto playing a smaller lineup, and suffered the 11-point defeat as -7 point favorites.
The line remains the same for Thursday's rematch, with Milwaukee still posting a very solid 9-3 record on their own floor this season. Toronto lost Kyle Lowry to an ankle injury and he is questionable. Milwaukee is set to welcome Jrue Holiday back though, as his COVID quarantine is up.
Toronto Ready to Run it Back?
The Raptors played well on Tuesday, even with Lowry unable to finish the game. Pascal Siakam moved to the C postion and ended up with 23 points and 13 rebounds while Fred VanVleet went for 33 points and all five Raptors starters scored in double digits.
The last game was a huge difference between the Toronto squad that fell 116-112 at home to Minnesota on Sunday. The Raptors would be smart to preserve some energy for a rematch at the Timberwolves on Friday but the chance to sweep an Eastern Conference power in two games is tempting as well. The Bucks also beat the Raptors 115-108 earlier this year in Tampa.
There is value on Toronto in the February 18th Raptors at Bucks pick considering Milwaukee has now dropped four in a row. Three of those were on the road on the West Coast, but the Bucks still looked a bit rusty returning home on Tuesday. Toronto has now dropped four of their last six too though.
Bucks Set to Bounce Back With Holiday?
Milwaukee's slump is no coincidence, as the team has gone 1-4 during the time that Jrue Holiday has been out due to COVID testing. Holiday is eligible to return on Thursday to try and stop the bleeding for the Bucks, but he could wait until a Friday game with Oklahoma City as well.
Milwaukee would love to have Holiday's defense and ball-handling back in the lineup, but even at the slight chance that the PG returns there's likely a minutes restriction. That means Giannis Antetokounmpo needs to step up with another 30+ point night like he had on Tuesday.
The Bucks also have an APB out for Khris Middleton, who had just 11 points and not a single assist in the last loss to the Raptors. Middleton had 24/10/7 vs. Toronto at the end of January.
Free February 18th Raptors at Bucks Pick
The potential loss of Lowry would hurt Toronto, but he's also had a night off to rest and very easily could be back in the lineup. Milwaukee has been struggling without Holiday, and his availability is another big question mark on Thursday. Antetokounmpo had 34 on Tuesday and it still wasn't enough.
Toronto 121 – Milwaukee 116
Free Pick: Raptors +6