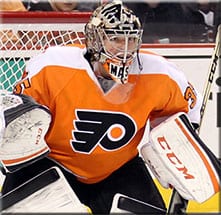 Overview
The Carolina Hurricanes are in Philadelphia tonight where they take on division rivals the Philadelphia Flyers. The Hurricanes have played the Flyers surprisingly well over the last few seasons winning 7 of the last 8 meetings but maybe that was just things evening out as the Flyers had won 10 of the previous 12 meetings.
Head to Head Trends
Hurricanes are 7-1 in the last 8 meetings.
Hurricanes are 19-39-6 in the last 64 meetings.
Philadelphia Flyers (-135)
The Philadelphia Flyers are 6th in the Metropolitan Division with 84 points and even though they have been out of the playoff picture for a while now I think just if a few things had gone their way they would probably still be battling for a playoff spot.
If you look at the Flyers record this season of 33-29-7-11 one thing really jumps out. The Flyers had the most shootout losses in the league with 11 and they also have the most combined OT and shootout losses with 18. So out of the 26 times the Flyers went to OT they only won 8 of them and if they could flip that around to 18 wins versus just 8 losses that would have another 10 points and they would just be 1 point out of a playoff spot.
Philadelphia Flyers Trends
Flyers are 4-1 in their last 5 home games.
Flyers are 17-7 in their last 24 home games vs. a team with a road winning % of less than .400.
Carolina Hurricanes (+115)
The Carolina Hurricanes are 8th in the Metropolitan Division with just 69 points and really had no shot at making the playoffs this season. The Hurricanes have sucked ever since the first game, they actually lost their first 8 games of the season so they were basically done for the year after the first couple weeks of the season.
The Hurricanes are fairly solid on defense allowing 2.8 goals per game but what has really hurt them this season has been putting pucks in the net averaging just 2.3 goals per game so if they could pick up a couple guys that can score some goals in the off season they might not be too bad next year.
Carolina Hurricanes Trends
Hurricanes are 0-5 in their last 5 in the fourth game of a 4-in-6 situation.
Hurricanes are 15-38 in their last 53 road games vs. a team with a winning home record.
Conclusion
I'm going to go with the Philadelphia Flyers in this one. The Flyers have played pretty good at home with a 23-16 record while the Hurricanes have been horrible on the road this season winning just 11 of 40 games.
Free Pick: Philadelphia Flyers -135