NFL Picks
NFL Pick: Green Bay Packers at Washington Redskins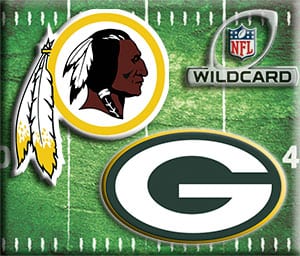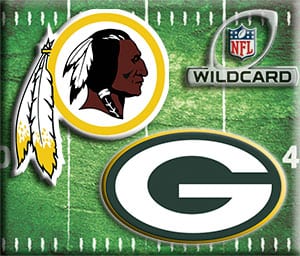 The Green Bay Packers head to D.C. to wage war on the Washington Redskins this Sunday, in what truly feels like the toughest NFL Wild Card playoff game to call. Green Bay's pedestrian offense could easily open up against a suspect Redskins secondary, but will that be any match for Kirk Cousins' dominance at FedEx Field? Let's take a closer look to find out:
Matchup History
The Packers and Redskins have a moderate history, with the Packers leading the series, 19-14-1. Green Bay has dominated the series of late, winning a 2013 battle at Lambeau Field, as well as five of the last six clashes. The one game the Redskins managed to win during that span, however (16-13 OT thriller in 2010), came at FedEx Field. The Redskins come in winning six of their nine games on this very field, including four in a row to close out the regular season. Green Bay has only regressed since a hot 6-0 start, as they stumbled into the playoffs at 10-6 but are a solid 5-3 on the road.
Packers Preview (+1)
Green Bay is impossible to gauge, as one week their defense is stout and they have a balanced offense, and the next week they can't move the ball or stop the opposition. The defense has balanced out to be a pretty respectable unit overall, but it's oddly been the offense that has been shaky during Green Bay's ugly 4-6 slide to close the year. If not for a lucky Hail Mary against the Lions, they might not even be in the playoffs. They're here, though, and still might be better than the Redskins. They own a superior record, have had more noteworthy wins and emerged out of a far more competitive division. Green Bay has been trying to find itself for nearly the entire year, but it's still not impossible for them to get it done in this Wild Card game.
Good news from @goldystats– Redskins recorded 17 sacks last 4 games, most in NFL. Packers allowed 18 sacks last 4 games, also most in league

— JP Finlay (@JPFinlayCSN) January 10, 2016
Redskins Preview (-1)
Washington is a tough nut to crack, as they've won almost exclusively at home (6-2) this year and really were a lost team on the road for most of the year. Kirk Cousins has absolutely thrived in front of the home crowd, as "You like that?" chants can be heard anytime he's working a defense. Cousins has been rather exceptional at home and on the year put up over 4,000 passing yards and 29 touchdowns. Needless to say, the switch from RG3 to Cousins was the right call and it's led to a first round home playoff game. The problem it two-fold: Washington's defense is a little suspect and it's still really tough to trust Cousins in such a huge game. If Cousins can lead the 'Skins to a second round game, though, it'd be the team's first playoff win since 2005.
The NFL moneyline odds at the GTBets sportsbook is at -150 for the Redskins and with spread the Packers are only getting +1 point.
The Pick
This is basically a pick'em and it's impossible to feel great either way. Perhaps some ATS numbers will help us out, as Green Bay is a weak 1-4 ATS against teams with a winning record this year and 4-1-1 ATS against the Redskins the last six times they've faced. Washington is 4-0 in their last four games on the year, both straight up and ATS.
Green Bay's biggest problems have arisen against elite teams, as they got crushed by the Broncos, Panthers and Cardinals on the road. They've handled inferior teams pretty well for the most part, however, and even games they've lost they've at least been in most of them until the end. The Redskins' hot run to end the year can't be ignored, as they only beat the Bears, Eagles, Bills and Cowboys, but three of those wins actually came on the road. That might make their strong home record look even more impressive, in a sense.
Two tidbits I might lean on: Green Bay is 4-1 ATS in their last five road playoff games and the Redskins 0-5 in their last five games as favorites. I don't think Cousins and co. lack confidence, but this is not the type of situation they're accustomed to, while Green Bay probably doesn't feel very respected these days. I can't wrap my head around picking Cousins over Rodgers and considering Washington's defense isn't amazing, it really does come down to that.
If It's Rodgers vs. Cousins I have to go with A-Rod and the Packers in this one.