NFL Picks
Philadelphia Eagles vs. Kansas City Chiefs Free Pick for Week 11 Monday Night Football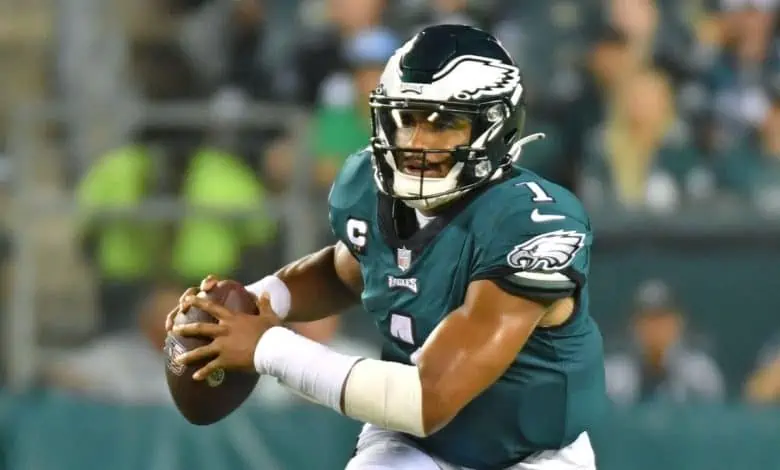 Week 11 of the NFL season is going to end in terrific fashion as there will be a Super Bowl rematch taking place on Monday Night Football. It will be the Philadelphia Eagles visiting the Kansas City Chiefs, and this should be a battle.
Philadelphia is currently the best team in the NFL this season as they bring an 8-1 record into this matchup. The lone loss for the Eagles came against the New York Jets, but they have been on a roll ever since.
Kansas City is in a tie atop the AFC standings as they are coming into this game with a record of 7-2. The Chiefs were off in Week 10, but they come into this with momentum after beating the Miami Dolphins in Germany in Week 9. 
The Chiefs are 2.5-point betting favorites over the Philadelphia Eagles on Monday Night Football. 
Eagles Flying on Offense
The Philadelphia Eagles come into this matchup scoring 28.0 points per game, and they do a lot of their damage through the air. Philadelphia is averaging 247 passing yards per game, and quarterback Jalen Hurts has a ton of weapons. 
A.J. Brown is having a huge season for the Eagles as he has 67 receptions for 1,005 yards this season. The Eagles still need to run the football better, and that's going to be a big key in this game against the Chiefs. 
The defense for Philadelphia is giving up just 21.7 points per game, but they were better on that side of the ball a season ago. It's going to take a complete team effort to win this game on the road. 
Chiefs Getting Stops
The Kansas City Chiefs are suddenly one of the best defensive teams in the league as they are allowing just 15.9 points per game. Kansas City has been aggressive with the defensive line, but the new rushing attack has helped out as well. 
Isiah Pacheco is averaging 4.2 yards per carry this season for the Chiefs, and Patrick Mahomes has also been picking up plays with his legs. That new rushing attack has slowed the game down a bit and also made the passing attack more wide open. 
Mahomes has thrown for 2,442 yards and 17 touchdowns this season, but he does have eight interceptions. Kansas City can't afford to turn the ball over and let the explosive Eagles get the ball in a good position. 
Defense Wins this Game
There is no doubt that both teams can put up points in a hurry in this game, but that is why you will also need to focus on the defensive side of the ball. Philadelphia continues to win games by being great on offense, but they are playing a great defense in this game.
Kansas City can now win games in multiple ways, and that defense and rushing attack will be a big key in this game. The Chiefs will also get a big boost from this game being played at Arrowhead Stadium and the fans should be behind them. 
Take the Kansas City Chiefs -2.5 as they move to 8-2 on the season with a big win.