NFL Picks
NFL Pick: Oakland Raiders at Tennessee Titans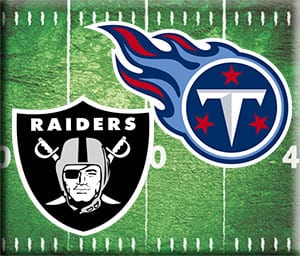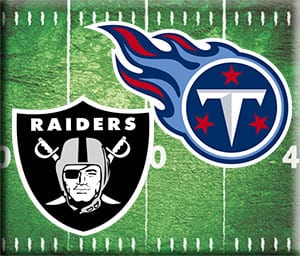 Neither the Oakland Raiders or Tennessee Titans are where they want to be going into week 12. The Raiders thought they were a team on the rise just a few weeks ago, but three straight losses have them looking at yet another season outside of the playoffs. Tennessee, meanwhile, will be looking for just it's third win on the year when they host Derek Carr and company.
Matchup History
The Titans and Raiders have met each other 47 times, with Oakland holding the minor edge, 27-20. The recent edge definitely belongs to the Titans, who have won three straight, including a 23-19 win in 2013. Derek Carr gets his first ever taste of the Titans, though, while Marcus Mariota also faces the Raiders for the first time. Both teams have gone through a ton of changes since they last met – most notably new running backs, quarterbacks, wide receivers and coaches.
Raiders Preview (-2)
Oakland once looked like a young and hip offensive team on the rise and Derek Carr's 21 touchdowns certainly back that logic. Unfortunately, the Raiders lost two tough games with the Steelers and Vikings and then lost at Detroit last week against a Lions team no one can seem to beat right now. Still, three straight losses is never a good thing, while Oakland is an unflattering 2-3 away from home. Luckily they get the 2-8 Titans, who have just one win since crushing the Buccaneers in the season opener.
Titans Preview (+2)
Tennessee started a new era mid-way through the 2015 season, as they canned head coach Ken Whisenhunt and moved on to interim coach Mike Mularkey. That helped them get their second win of the year two weeks ago, but then they fell flat in a huge game against the Jaguars on TNF. They've been very competitive all year, however, and get a crack at their first home win of the year when a reeling Raiders team comes into town.
The Pick
It's true the Raiders haven't been amazing on the road and have dropped three in a row, but two huge things we have to consider here are the fact that Tennessee hasn't won at home in 2015 (0-5) and the Raiders have lost to three teams that are playing really good football. That's not really the case for the Titans, at least not at a high level.
Tennessee is just 6-18-2 ATS following a loss over their last 26 contests and in 2014 the Raiders are a strong 5-1 ATS in the AFC. None of that sways me, but the Raiders have more talent and have fared better on the road (and in general) then the Titans have in their own stadium.
It's a small line but Oakland has more fire power across the board.

I like the Raiders straight up and to cover.