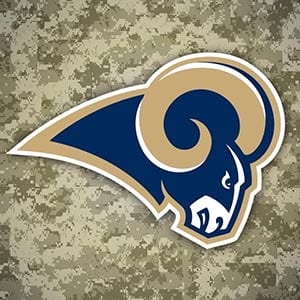 Overview
The St Louis Rams head out west to sunny San Diego for their week 12 match up versus the Chargers. The last time these two teams met was back in 2010 when the Rams won 20-17 and that was a fairly big upset as the Rams were 9.5 point underdogs. The game before that was in 2002 and the Chargers won that game 38-24.
Head to Head Trends
No head to head trends available.
San Diego Chargers (-5)
The San Diego Chargers are 3rd in the AFC West with a 6-4 record just one win behind the Chiefs and Broncos. The Chargers had a great start to the season winning 5 of their first 6 games but they have struggled since with just 1 win in their last 4 games which included a 37-0 loss to the Dolphins. The Chargers had a hot offense early in the season but now they're averaging just 330 yards and 21.8 points per game which is actually below average. The Chargers do however have a pretty solid defense allowing 331 yards and 19.2 points per game. The Chargers are also much better at home especially on defense allowing just 271 yards and 12.8 points per game.
San Diego Chargers Trends
Chargers are 0-5 ATS in their last 5 games overall.
Chargers are 9-2 ATS in their last 11 games after scoring less than 15 points in their previous game.
St Louis Rams (+5)
The St Louis Rams are last in the tough NFC West with a 4-6 record. The Rams didn't have the best start to the season losing 4 of their first 5 games with their only win coming against the Bucs but over the last 5 weeks they are 3-2 with wins against the Seahawks, 49ers, and Broncos who are 3 of the best teams in the league. The Rams have one of the worst offenses in the league averaging just 313 yards and 18.5 points per game and they also don't exactly have a good defense either allowing 362 yards and 25.8 points per game so it's kind of surprising that they have been able to pull off wins versus such good teams.
St Louis Rams Trends
Rams are 2-6 ATS in their last 8 road games.
Rams are 0-4 ATS in their last 4 games following a S.U. win.
Conclusion
I'm going with the San Diego Chargers over the Rams in this one. The Chargers are the better team in general but especially at home where their defense are allowing just 12.8 points per game while the Rams offense is averaging 16.2 points on the road so I don't see the Rams putting up any more then maybe 10 or 12 points.
Free Pick: San Diego Chargers -5