NFL Picks
NFL Pick: Oakland Raiders at Pittsburgh Steelers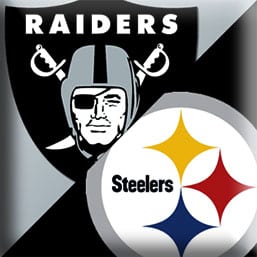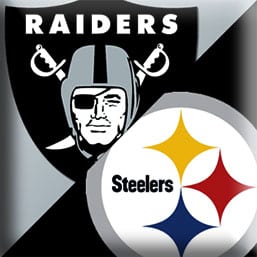 The Pittsburgh Steelers blew a chance to make a serious push in the AFC North with a loss to the Cincinnati Bengals last week. With the odds of a division title just about dashed, Ben Roethlisberger and co. know by now their best route into the AFC playoffs is as a wild card team. Luckily they have plenty of time and there aren't many good AFC teams that will be competing for those final two spots. Unfortunately, the Steelers get tested by one of them right away in week nine, as Derek Carr and the upstart Raiders come to Heinz Field.
Matchup History
Oakland and Pittsburgh have faced off 27 times in history, with the Raiders leading the series, 15-12. Oakland has surprisingly had the edge in recent memory, too, as they topped the Steelers 21-18 in 2013 and also beat them in a 34-31 shootout in 2012. The Steelers won in a blowout in 2010, but the Raiders have claimed four of the last five meetings, overall. Even with Oakland's recent 2-0 run over the past couple of meetings, all bets are off with Derek Carr now running Oakland's offense. In fact, the Raiders have a new starter at quarterback, running back and wide receiver and also have plenty of news faces on the defensive side of the ball. Needless to say, regardless of what has happened in this matchup in the past, what is coming this Sunday is rather unpredictable.
Raiders Preview (+4.5)
Don't look now, but we have to take the Oakland Raiders seriously. Ever since getting crushed by the Bengals in week one, Derek Carr (15 TDs) and co. have been on a bit of a tear, posting a 4-3 total record and taking down the likes of the Ravens, Chargers and Jets. They also beat Cleveland and had close games with the Bears and Broncos. Oakland seems fairly legit as a whole, as their defense stops the run fairly well and their offense can roll with just about anyone. That may be what is necessary this week, as the Steelers also stop the run and should force Carr and Oakland's passing game to try to win in a tough environment.
Watch Head Coach Jack Del Rio give his final thoughts before tomorrow's game in Pittsburgh: https://t.co/qJ8y5so2Is pic.twitter.com/TynagMK0ug

— OAKLAND RAIDERS (@RAIDERS) November 8, 2015
Steelers Preview (-4.5)
Pittsburgh has had a weird season so far, as they had to endure suspensions of Le'Veon Bell and Martavis Bryant and then had to work their way through a few weeks of Ben Roethlisberger being out with a knee injury. Big Ben and Bryant are back, but Bell just went down with a knee injury last week. Under-manned and with their backs against the wall, this game is as big as it gets for the Steelers. Their shot at the division is gone, but a win this week would get them to 5-3 and give them the edge on the Raiders and just about everyone else when it comes to the wild card race. Roethlisberger was sluggish and careless (three picks) in a home loss last week to the Bengals, but he should be much more comfortable this week against a horrific Oakland pass defense.
On the NFL Moneyline odds at Bookmaker the Steelers are at -260 and with the point spread the Raiders are getting +5.5.


The Pick
One weird thing in this matchup is the Raiders could be shooting for their third straight win this week, and that'd be happening for the first time since 2011. That's a tough feat on the road against a solid Steelers team, who would also be looking to avoid a three-game (losing) streak of their own.
The numbers definitely support the black and yellow at first glance this week, as the Steelers are an impressive 10-2 ATS against a team with a winning record and 9-3-1 ATS overall in their last 13 contests. Oakland has some stats backing them, too, however, as they're 4-1 ATS in their last five games.
I like what the Raiders have going here, but this all still feels a bit too fresh. Pittsburgh was a team with title aspirations and one of the nastiest offenses in the league before Big Ben got hurt. Losing Bell hurts, but DeAngelo Williams isn't a bad backup option and the Steelers still have an elite passing game.
The matchup favors Pittsburgh, so I'll take them to bounce back at home, straight up. That being said, the Raiders are close to where they need to be and I think this is tight, so I'll take Oakland to beat the spread.