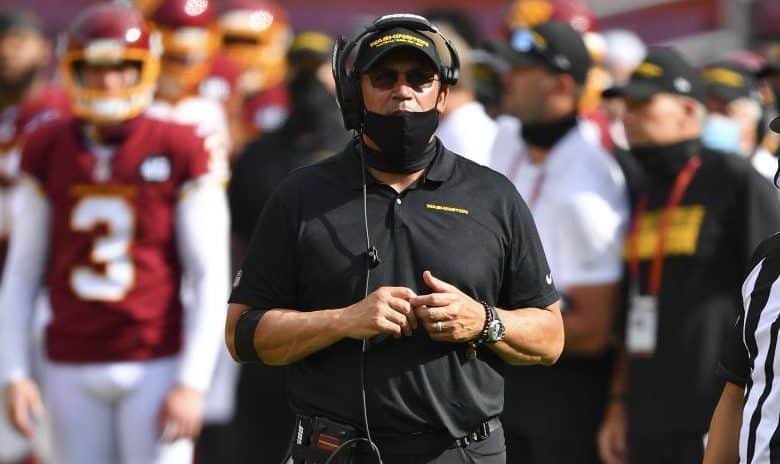 New York Giants fans and players will be eagerly glued to the week 17 Washington at Philadelphia pick. If WFT wins, they're in the playoffs as the winners of the NFC East despite a 7-9 record. If the Eagles can pull off the slight upset, the Giants win the division and head to the postseason due to having the edge in tie breakers, going to the playoffs with a 6-10 record.
Philadelphia has a chance to play spoiler here, but it's not as sweet considering that just puts fellow rival New York into the postseason instead of Washington. The Eagles are +6.5 underdogs at home, but will still be playing hard (you'd think) as they try to build momentum towards 2021, potentially behind young QB Jalen Hurts. WFT did win 27-17 at home vs. Philly earlier this year and as +5.5 home dogs.
What's the QB Situation for Washington?
Ron Rivera is a respected coach in the NFL, especially after battling back from cancer during the offseason and being on the sidelines even during a pandemic. It would be a feelgood story if WFT got to the playoffs, but Washington still needs to roll out some semblance of an offense on Sunday night, which may not be easy.
Last week's QB starter Dwayne Haskins was cut after committing three turnovers in a must-win against Carolina and already being on a short leash after breaking COVID protocol. Alex Smith would give WFT the best chance in the week 17 Washington at Philadelphia pick, but he's missed the last two games with a calf injury and did not practice Wednesday.
Washington's top two playmakers are also iffy for Sunday's do-or-die game. Terry McLaurin missed the last game with an ankle sprain and would be a huge loss at wideout for whoever plays QB. Antonio Gibson is also going to try and play through a toe injury, but he'll be less than 100%.
Eagles Ready for Spoiler Role?
Philadelphia would love to keep Washington out of the postseason under normal circumstances, but a win on Sunday just puts the Giants in at 6-10, one of the worst teams to ever make the playoffs. Doug Pederson and Rivera are long time vets of the game, and it's hard to see the Eagles putting up much of an effort in this one.
At the same time, it wouldn't be fair for Pederson to derail the development of his rookie QB, and possibly the future of the Eagles franchise Jalen Hurts. The Eagles put up great numbers on offense last week throwing for 326 and running for 151, but they still lost 37-17 to Dallas as -3 home favorites.
It may not be up to the Eagles offense whether they put up a fight in this game, as their defense served up 151 on the ground and 362 pass yards vs. the Cowboys last week. The Washington defense is also pretty good, ranking in the top 5 in yards allowed per game.
Free Washington at Philadelphia Pick
Washington is banged up, but the Eagles aren't exactly healthy either with Miles Sanders, Desean Jackson, and Dallas Goedert among the wounded for Philly. The Washington defense is going to take advantage of that.
Washington 21 – Philadelphia 17
Free Pick: Under 43