NFL Picks
TNF Pick: Miami Dolphins at New England Patriots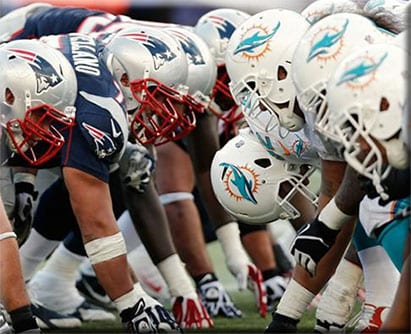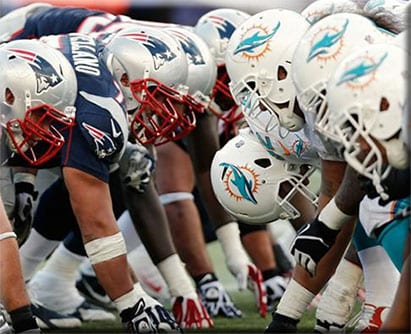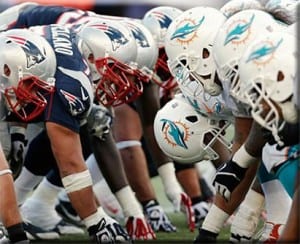 Every week the New England Patriots appear to get tested, they escape and pass with flying colors. Last week it was the vaunted New York Jets defense, which Tom Brady proceeded to carve up for three total touchdowns despite not getting any help from his running game. In week two it was Rex Ryan's Bills, who were supposed to stifle the Pats. Instead, Brady dropped 40 points on one of his oldest rivals.
Going into week eight, New England gets yet another test up against their unblemished 6-0 start. The Miami Dolphins storm into Foxboro riding a hot two-game winning streak, and with interim coach Dan Campbell leading a talented team into new levels of confidence, it's entirely possible the Patriots could be put on blast in front of the nation on Thursday Night Football. Possible, but not probable.
Matchup History
Miami has had more success in this AFC East series over time (55-47), but that hasn't really been the case over the last decade. Miami has enjoyed a mild push back with a 2-2 split over the past two seasons, but this remains a matchup Brady and co. have owned. In fact, New England has claimed 8 of the last 10 meetings, while both of Miami's wins coming in South Beach over the last two years. That puts Miami in a tough spot, as they haven't won a game at New England since 2008. The odds grow even wearier when you look at an odd stat – Bill Belichick versus interim head coaches. Few can deny the genius of Belichick, but when facing an inexperienced coach taking over the reigns smack dab in the middle of an already started season, the Patriots head coach is a disturbing 7-2 and hasn't lost a game to an interim coach since 2004.
Dolphins Preview (+9)
The Dolphins were supposed to be a threat to New England's crown heading into 2015 and a slow start out of the gates led to the firing of Joe Philbin. All is now right with the world in Miami, though, since Philbin's lack of control from an organizational perspective arguably held the team back in all phases. From the #bullygate scandal to simply seeming inept in decision-making, Philbin had to go and he probably was never a good pick to man the ship. Dan Campbell doesn't look the part, but he backs up his words and he has these Dolphins playing for him. He said Miami would stop being a soft, finesse team and both play gritty defense and run the football. Through two games, Miami has done both and have won two in a row. Winning a third straight game won't come easy in Foxboro on TNF, but there's no denying Campbell's impact and that Miami's new philosophy is working.
Patriots Preview (-9)
There's nothing new to report here, really. Tom Brady remains pissed off at the world for #deflategate and despite a come-and-go running game, a ridiculous six drops by Brandon LaFell and a shaky defense, he's got the Patriots looking plenty capable of winning back-to-back titles. Brady is conducting precision passing as if he's never going to exit his prime, and even when things aren't going perfectly around him, he's kept his cool. New England's defense is still good enough to compete, too, while their running game is at it's best when Dion Lewis is healthy (he should return on Thursday). This week Brady gets the Dolphins, who he's routinely carved up like Thanksgiving Day turkey. Their defense has looked far better over the past two weeks, but the Bills and Jets looked like problems, too. It's tough to imagine Brady suddenly caving at home against the Fins.
The Pick
There isn't much more to be said, as this is a pretty simple matchup. The Dolphins are a decent team that is inspired and playing a lot better than they had been. New England is still the superior team and is at home. They have an undefeated record to defend and there's no way they want to let it slip against a hated rival. Just like last week, the Pats know they can kill two birds with one stone: beat a division rival and separate themselves in the AFC East, while also moving one step closer to a 16-0 run. You know they want it in the worst possible way.
The Patriots have specifically done a really good job against the Dolphins when it comes to NFL betting, as they're 12-2 straight up against Miami at Foxboro dating back to 2001, as well as a solid 9-5 ATS against Miami at home in that same span. Tom Brady is also a staggering 8-0 on Thursday Night Football. I think Vegas makes it clear, and I doubt anyone really doubts it, but the Patriots are winning this game. Brady is awesome at home, inside his division, on prime time TV (save for vs. Chiefs last year. whoops) and you know, against these very Dolphins.
New England is better than you think at home, too. In their last 20 games at Foxboro, they're an astonishing 20-0 straight up and a rock solid 13-5-2 against the spread. It's also worth noting that Miami has been a mediocre 3-3 ATS in 2015 and their two killer wins the past two weeks have come against woefully inferior opponents (Titans and Texans).
But here's the kicker. New England only has two games where they won by more than 8 points all year. Both were blowouts against teams they should have blown out. Every other game has been fairly tight, largely thanks to them facing good offenses and/or the defense not being as air tight as they were a season ago. Miami is a talented division rival that has turned into a balanced, determined team over the past couple of weeks. They're not winning, but if that same team shows up, they're not getting blown out, either.
That has me feeling quite confident the Pats win, but doesn't have me thinking they cover the spread this week.