NFL Picks
Kansas City Chiefs vs. Jacksonville Jaguars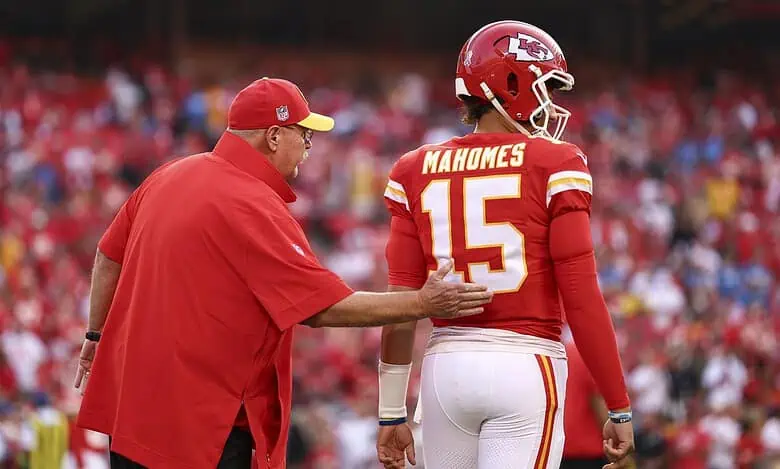 Kansas City Chiefs vs. Jacksonville Jaguars
The NFL always seems to do a great job of putting together big matchups each weekend, and that will be the case yet again in Week 2. The Kansas City Chiefs are set to visit the Jacksonville Jaguars, and both of these teams are considered to be Super Bowl contenders.
Kansas City is coming into this game with a record of 0-1 after being upset by the Detroit Lions in the season opener. The Chiefs are still the favorites to win the AFC West Division, but they can't afford to fall into an 0-2 hole.
Jacksonville was a 31-21 winner in Week 1 in Indianapolis against a Colts team that is not expected to be very good. The Jaguars are the big favorites to win the AFC South Division this season, but this game will provide a great test.
The Chiefs are three-point betting favorites over the Jacksonville Jaguars in this AFC showdown on Sunday afternoon.
KC Wants to Throw
The Kansas City Chiefs threw for just 226 yards in the Week 1 loss to the Detroit Lions, but they had some receivers letting the team down. Tight end Travis Kelce is expected to be back on Sunday, and that's going to give a huge boost to the offense.
Mahomes did lead the Chiefs with 45 rushing yards in Week 1 as well, and this team has to find a way to get some balance on offense. You will see a big game from Mahomes and Kelce in this game, but they will need more than those two stars.
Chris Jones will be back for the Chiefs this weekend as well, and his return will be huge for this defense. Kansas City will need to stop the run, but that is going to be easier with Jones on the field.
Jaguars Must Find Defense
The Jacksonville Jaguars gave up 21 points to the Indianapolis Colts in Week 1, and they are now facing a much better offense. Jacksonville did hold the Colts to just 65 rushing yards, but there are some concerns in the secondary.
Getting pressure on Patrick Mahomes is going to be a huge key in this game, but it's not something that the Jaguars are typically great at. The Jaguars could also be trying to turn this game into a shootout, and they have the weapons to keep up.
Trevor Lawrence threw for 241 yards and one touchdown in Week 1, but he also had an interception. Lawrence has plenty of talent to get the ball to, but he also can't afford to make any mistakes in this one.
Chiefs Get Back on Track
Kansas City is expected to get healthy for this game, and getting two of their stars back is going to make a big difference. This Chiefs offense is going to be sharp throughout the game, and they will be facing a defense that has a tendency to struggle.
Jacksonville has all of the talent needed to be a Super Bowl contender this season, but now they have to prove it on the field. You should expect the Jaguars to keep this game close, but ultimately they will end up with a loss.
Bet on the Kansas City Chiefs at -3.0 as they are going to bounce back with a big win in this game as they knock off the Jacksonville Jaguars.