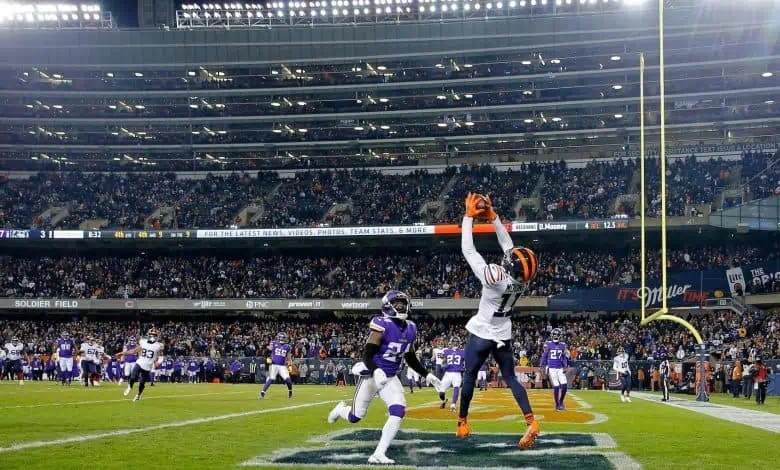 There's nothing record-wise on the line for Minnesota (12-4) heading into the Vikings at Bears betting matchup on Sunday, but this is a team that needs a momentum builder. The Vikings wrapped up the NFC North weeks ago, but in the last month have lost to Detroit (34-23), have needed the greatest comeback in NFL history to top the Colts (39-36), and most recently got blown out by the Packers 41-17 last Sunday.
Even though "momentum" is on the line in week 18, who knows just how hard Minnesota will go after this as the health of their star players seems like the top priority. The Bears (3-13) would seem happy to oblige with their 10th straight loss to close out the year, because that combined with a Houston win on Sunday would give Chicago the #1 pick in the draft.
Minnesota Will Use Its Starters
Vikings coach Kevin O'Connell said he will use his starters at least to being the week 18 game, as it's very important to wash the taste of a 41-17 loss in Green Bay last week out of your mouth. WR Justin Jefferson having just 1 catch for 15 yards last week against the Packers makes this game a bit more anticlimactic, as he'd now need 229 yards to become the first receiver to get 2,000 in a single season.
Jefferson did snag 12 balls for 154 yards in Minnesota's 29-22 win over the Bears in week 5 that did not cover the -10 point spread at U.S. Bank Stadium. Vikings QB Kirk Cousins completed his first 17 passes in that game, and could use a big confidence builder going into the playoffs after going 18/31 with 3 INTs in last week's visit to Lambeau Field.
Minnesota's defense held Aaron Rodgers to a 15/24, 159 yard day last week the Packers had a kickoff return and an INT return TD that led them to a  14-3 lead in the 1st quarter.
Bears Turn to Peterman
Chicago is shutting down QB Justin Fields for the year after he suffered a hip strain last week. That's a smart move in a meaningless game, and in fact since it seems Fields is a legit QB of the future the Bears could demand a nice package from teams in a trade if they do get the #1 draft pick.
Fields sitting out definitely puts a dent in Chicago's chances of stopping their 9-game losing streak, even though he had one of his poorer games of the season vs. the Vikings with 'only' 255 total yards and a TD. Fields has 1,143 pass yards on the season with 8 TDs and another 2,200+ pass yards with 17 scores so he's obviously a big chunk of this offense.
Free Vikings at Bears Betting Pick
Nathan Peterman will start at QB for Chicago on Sunday, and he's thrown just 6 passes this season. The Vikings defense has looked vulnerable lately (34+ points allowed in three of the last four) – but not against this offense.
The Bears were content playing teams close – and still losing – but not the last two games where they've fell to the Bills and Lions by a combined 55 points. Chicago is ready for the offseason.
Free Pick: Vikings -7