NFL Picks
NFL Pick: Chicago Bears at Green Bay Packers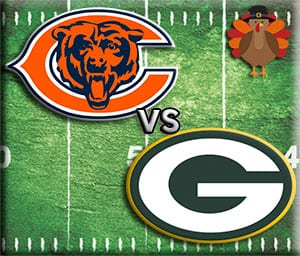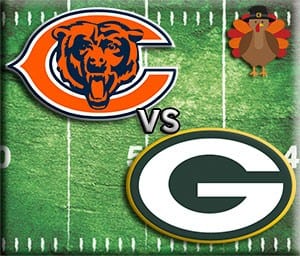 The Green Bay Packers finally looked like themselves in a huge divisional win over the Minnesota Vikings last week, and now they get to turn right around on a short week and battle another NFC North foe. Luckily it's just the Chicago Bears, who the Packers took down in week one and have man-handled at Lambeau Field in recent years.
Matchup History
There might not be a more storied or more competitive series in all of pro football. The Bears and Packers have met an insane 191 times, with the series being about as close as possible with Chicago leading, 92-91-6. It's been largely Green Bay ever since the Brett Favre era began, though, with the Packers winning 35 of 48 games since 1992. Green Bay has been especially dominant in the past seven years, as they've held a 12-2 record against the Bears dating back to 2008. That record is even more blistering at Lambeau Field, where Green Bay has fallen to the Bears just once in the last eight years.
Bears Preview (+8)
Chicago has been a lot better than advertised this year, as Jay Cutler has played mostly turnover free football and helped the Bears turn back into a competitive team after an ugly 0-3 start. Chicago's defense has even been underrated, and despite a tough loss at home to the Broncos last week, they'll enter week 12 at a respectable 4-6. The Bears also should be getting some reinforcements, as running back Matt Forte and wide receiver Alshon Jeffery should be back.
Packers Preview (-8)
Green Bay had a rough go of it for three weeks there, as they lost understandable brutal road matchups against the Broncos and Panthers, but then lost in week 11 to the Lions (at home) for the first time in over two decades. The offense struggled with pass protection and couldn't run the ball consistently, while the defense had been getting absolutely gashed ever since giving up 500+ passing yards to Philip Rivers over five weeks ago. They responded in a big way last week, as they trounced the Vikings in Minnesota to take back the NFC North crown for the moment. Now they return home to battle the Bears, who they've had little trouble against during the Aaron Rodgers era.
On the NFL Moneyline odds at Bovada the Green Bay Packers are at -385 and with the point spread the Bears are getting a healthly +8.


The Pick
This feels pretty obvious at first glance, but we need to keep some numbers in mind. For one, it's not like the Packers are completely invincible at home. They did fall to the Lions there two weeks ago and overall throughout the year, have not always looked elite on offense. Chicago has also done most of their damage on the road this year, as three of their four wins have come away from home. Getting #4 in Green Bay on a day where Brett Favre's number is retired feels unlikely, but it's also not impossible.
Still, Green Bay proved last week they're not about to cave, while they're the better team at home in a game they need to win.

Chicago keeps it tight enough to beat the spread, but I am going Packers straight up, all day

.