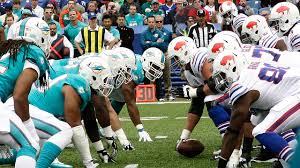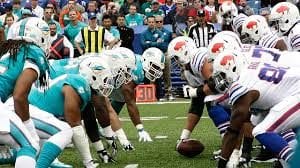 Our first NFL week seven free pick features Buffalo at Miami for a 1 p.m. game at the Hard Rock Stadium. The Bills (4-2) come to Miami (2-4) as three-point favorites. The last time Buffalo lost was on September 15 when they hosted the Jets. That score was 37- 31. Since then they have beaten Arizona 33-18, New England 16-0, Los Angeles 30-19, and San Francisco 45-16.
The Dolphins are coming off a surprising 30-16 win over the Pittsburgh Steelers. Miami lost the two games prior. On October 9, Tennessee beat the Dolphins 30-17, and on September 29, the Bengals were victorious 22-7. The last time they won before last week was when they met Cleveland on September 25. Miami won that game in OT by a score of 30-24.
Buffalo Offense vs. Dolphins Defense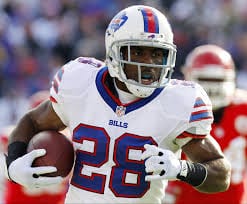 The Bills offense has been scoring an average of 27.0 PPG. In their past four games, which were all wins, they're averaging 31 PPG. LeSean McCoy (104 ATT, 587 YDs, 5.6 AVG, 6 TDs) has been an essential part of their offense. There was doubt as to McCoy's ability to play, but the last word is he running back will be on the field ready to go. QB Tyrod Taylor is completing 62.2% of his passes. He's tossed eight touchdowns, offered up two picks, and has been sacked 13 times. Taylor will be wanting to connect with WRs Marquise Goodwin (8 REC, 165 YDs, 20.6 AVG, 2 TDs) and Robert Woods (25 REC, 240 YDs, 9.6 AVG, 1 TD).
The Dolphins have 12 sacks, 22 TFL, and seven forced fumbles. If their defense can contain McCoy and put some pressure on Taylor, they'll keep the Dolphins in the game. DT Ndamukong Suh (30 TCKL, 2.5 Sacks, 1 TFL, 1 PD) will be an essential part of today's D if the Dolphins are going to have a chance to win. Although they only have three picks, Miami has defended 22 passes. In the secondary, safety Isa Abdul-Quddus (2 INTs, 3 PD) has the potential to be a difference-maker. The Fins are holding teams to 22.3 PPG.
Miami O vs. Bills D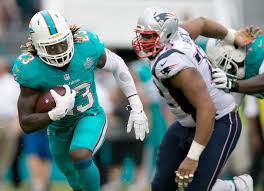 It's no secret that Miami has had a tough time on offense. They've scored an average of 19.7 PPG. QB Ryan Tannehill (66.0 COMP%, 6 TDs, 7 INTs, 17 Sacks) has struggled at times, and the Dolphins have relied heavily on their rushing game. Seven of their 13 offensive touchdowns have been scored by the ground game. RB Jay Ajayi has notched four of those scores. Ajayi, who is averaging 5.6 YPA, needs to have a solid performance for Miami to have a chance in this game. WR Jarvis Landry (41 REC, 494 YDs, 12.0 AVG, 1 TD) is also an essential element of the Miami offense. Ajayi and Landry each have fumbled once, and they have lost each of those fumbles.
The Bills bring a very strong defense to the field. They are allowing 17.2 PPG and have accumulated 17 sacks, six interceptions, and 10 forced fumbles (six recovered). The defense has scored three touchdowns. Top performers include LBs Lorenzo Alexander (30 TCKL, 8 Sacks, 3 TFL, 2 PD, 3 FF), Jerry Hughes (24 TCKL, 4 Sacks, 1 PD, 1 FF), and Zach Brown (45 Solo TCKL, 2 Sacks, 5 TFL, 2 FF). They're going to be a lot to handle.
NFL Week Seven Free Pick Features Buffalo at Miami
Our NFL week seven free pick features Buffalo at Miami, and we see this game as Buffalo's. They are superior on both offense and defense. Look for the Bill D to harass Tannehill and to contain the ground game. At the same time, we thing the Bills will be able to use their ground game effectively and efficiently against the Dolphins. Take Buffalo at -2.5.
NFL Week Seven Free Pick Features Buffalo at Miami: Buffalo Bills at -2.5