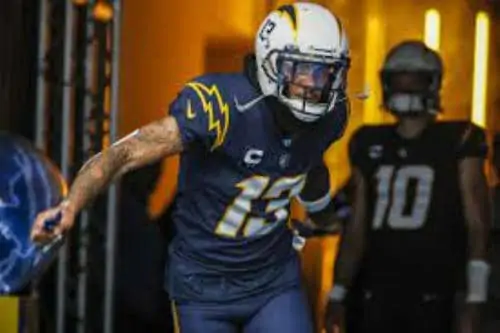 Los Angeles was upended 27-24 at home last week by the Patriots even as -3.5 underdogs and coming off their bye. Heading into the week 9 Chargers at Eagles matchup Los Angeles will have to fly to the East Coast and face an Eagles squad with momentum coming off a 44-6 win over Detroit last week.
Philadelphia is a +1 point underdog as they look for their first home win of the season (0-3). The Eagles can run the football, which could be a problem for L.A whose 159.6 rush yards/game allowed is the most in the NFL. The Chargers have also only traveled one time since September 26th, and it wasn't pretty in a 34-6 loss at Baltimore in week 6.
Herbert Needs to Be Better for L.A
This isn't a great matchup for the Chargers, whose bread and butter on offense falls right into the Eagles' strengths on defense. Justin Herbert has led Los Angeles to the #7 passing attack in the NFL (271.9 ypg) but Philadelphia's defense ranks 8th in only giving up 220.6 ypg through the air.
Herbert also seems to be hitting a sophomore slump lately. He has thrown for over 300 yards just once in the last five games and threw 2 INTs last week against New England, and had just 1 TD and 1 INT in the loss to Baltimore.
Herbert's numbers being down a bit may not be as bad as it seems, because the Chargers have also tried to get more balance in their offense with the running game. They were able to rush for 163 yards last week against New England behind the two-headed monster of Justin Jackson (79 yards) and Austin Ekeler (64 yards). It didn't hurt that Jackson broke off a 75-yard run, so the Chargers still have a lot to prove against an Eagles defense giving up 123.5 ypg on the ground.
Eagles Set to Run All Afternoon?
Philadelphia has had success running the ball this season but they've done so mostly with QB Jalen Hurts who leads the team with 432 yards on the ground. Top running back Miles Sanders actually has 10 less attempts (63) than Hurts (73).
Sanders is out indefinitely with an ankle injury but in his absence the Eagles seemed to have found some balance in the running game last week with Boston Scott getting 60 yards on 12 carries and Jordan Howard running for 57 on a dozen totes with 4 TDs between them. Throw in the 71 yards from Hurts and Philadelphia looked real good in rushing for 236 yards.
Granted the Eagles' success on the ground last week was due partly to playing Detroit and being up 24-0 early into the 3rd quarter. That's still some solid momentum built up, especially into a matchup with the worst rushing defense in the league. LAC has allowed 230, 187, and 142 yards rushing the last three weeks.
Week 9 Chargers at Eagles Free Pick
This is a coin flip game with a 1-point spread, which is an indictment on the Eagles since they don't even get the standard -3 point spread for home field. That being said this is a real tough spot for Los Angeles, who have to go on the road and try to stop a strong Eagles running game. It just isn't going to happen, and Herbert could easily continue to struggle in front of a Lincoln Financial Field crowd hungry to see the Eagles get their first home win.
Eagles 30 – Chargers 27
Pick: Eagles +1