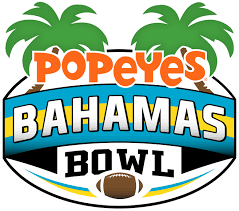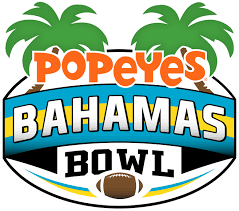 If you're going to play a bowl game, why not do so in the Bahamas? That's where the Popeyes Bahamas Bowl will be played on Friday, Dec. 23. Our 2016 Popeyes Bahamas Bowl free pick is a choice between the Eastern Michigan Eagles and the Old Dominion Monarchs. This is the Eagles first bowl appearance since 1987, and they will want to impress. Then again, the Monarchs have had to wait a lot longer than that. This is their first bowl appearance ever.
The Eastern Michigan Eagles (7-5 Overall, 4-4 Mid-American Conference) finished third in the MAC West. Starting the season at 4-1, things got a tad tough as they gt deeper into conference play. They played top team Western Michigan well, keeping that game close for some time, but lost in the end 41-35. They notched a big 48-41 win versus Ball State and finished the season by beating Central Michigan 26-21.
The Old Dominion Monarchs (9-3 Overall, 7-1 Conference USA) finished second in C-USA with an identical record conference record as Western Kentucky. However, the Monarchs lost to WKU 59-24 in the regular season. After that loss, Old Dominion ran off five straight wins.
Eastern Michigan Eagles
QB Brogan Roback (59.2 COMP%, 15 TDs, 6 INTs) is the engine that runs this offense. He's got a full squad of able pass catchers, including junior wideout Sergio Bailey II (55 REC, 799 YDs, 14.9 AVG, 6 TDs). The ground attacks is also deep three players have solid TD chops. Sophomore RB Ian Eriksen (175 ATT, 741 YDs, 4.2 AVG, 9 TDs) is the primary rusher. The team has a red zone success rate of 90.38%.
EMU has been scoring on average 30.4 PPG. They have been allowing 30.3 PPG. They have 20 sacks, 56 TFL, and 10 INTs. None of these stats are hugely impressive. However, the teams 16 FF and 46 QB hurries are both pretty impressive. Their turnover margin is at plus one.
Old Dominion Monarchs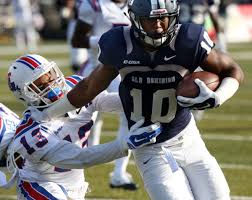 QB David Washington (59.7 COMP%, 28 TDs, 4 INTs) is running an offense that's been good for an average of 36.0 PPG. Washington is a solid player and accurate passer. He'll be tossing to a trio of fine receivers, Zach Pascal, Jonathan Duhart, and Travis Fulgram. Together they have caught 23 TD passes. RBs Ray Lawry and Jeremy Cox are scoring machines. Lawry, with over 1,100 yards, has 11 TDs, while Cox has crossed the goal 13 times. The squad only has 2 FF against them.
The defense is holding team's to 27.8 PPG. They come to today's game with 34 sacks, 76 TFL, and 14 FF. Their turnover margin is plus 13. Plus they have 10 INTs, 44 PD and 27 QB hurries. They should play tough against EMU.
2016 Popeyes Bahamas Bowl Free Pick
Our 2016 Popeyes Bahamas Bowl free pick likes Old Dominion a lot. Along with having a powerful offense, they bring a sound defense to their first bowl game. Take the Monarchs at -5.5.
The 2016 Popeyes Bahamas Bowl will be played on Dec. 23 at 1 p.m. ET at Thomas A. Robinson National Stadium, Nassau, Bahamas. The game will be on ESPN.
Our 2016 Popeyes Bahamas Bowl Free Pick: Old Dominion at -5.5