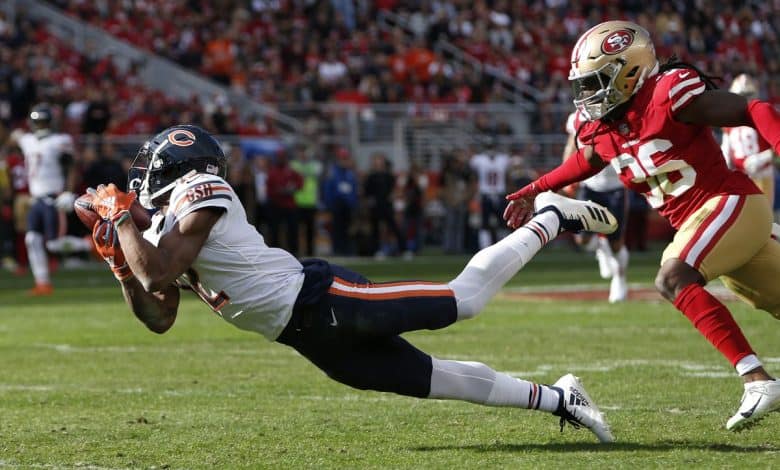 San Francisco has lost four in a row but that hasn't stopped oddsmakers from making them favorites in the week 8 49ers at Bears matchup. Sure Chicago has looked bad in consecutive losses to the Packers and Tampa Bay – but those are two of the NFC (if not NFL) elites. The Bears are without HC Matt Nagy (COVID) but not everybody in Chicago is considering that a bad thing.
You can't really blame Jimmy Garoppolo for an underwhelming performance last Sunday night in a 30-18 loss to the Colts because it was a torrential downpour. San Francisco has also lost to Green Bay as well as Arizona on their four game losing skid so the competition has been tough for them as well.
Garoppolo Back in Chicago
It's always tough for a West Coast team to travel East of the Mississippi for an early start but perhaps the most comfortable 49ers player for this game will be QB Jimmy Garoppolo, who is from Arlington Heights – a 30 minute ride from Soldier Field. Garoppolo needs to be comfortable in front of dozens of friends and family because he's committed 7 turnovers in the 5 games he's played this season.
One good thing for Garoppolo is that Chicago edge rusher Khalil Mack (foot) is out for the foreseeable future. That being said Robert Quinn (COVID) and Akiem Hicks (groin) return for the Bears defense. Maybe the most important player also returning in the week 8 49ers at Bears matchup is San Francisco rookie QB Trey Lance (knee), who coach Kyle Shanahan won't hesistate to put in if Garoppolo struggles.
San Francisco has the #6 total defense in the league (324.0 ypg) and are 5th vs. the pass (205.0 ypg) but there has to be some concerns about giving up 30 points to the Colts at home last week in inclement weather. That was also coming off the bye, although the Niners defense did look good in limiting Arizona's offense in a 17-10 defeat in week 5.
Coaching Changes in Chicago
The line for this matchup has only gone up 1/2 a point after news that head coach Matt Nagy would miss this game after a positive COVID test following the Tampa Bay loss. Special teams coordinator Chris Tabor will take over in his place, making his head coaching debut. Normally that would be a hindrance to a team, but how much worse off could the Bears be considering they rank last in the NFL in yards (255.4) as well as last in passing (124.4 ypg).
The 49ers have a really good pass defense, but that is a moot point considering the Bears only throw with Justin Fields as a secondary option. Instead the Chicago run game could be the key today as San Francisco gives up 119 ypg on the ground. The Bears also seem to have found a gem in 6th round draft pick Khalil Herbert who has stepped in for the injured David Montgomery to run for 75, 97, and 100 yards the last three weeks.
Free Week 8 49ers at Bears Pick
San Francisco is averaging 14.0 ppg in the last two since TE George Kittle has been out with a calf injury, and that's no coincidence. Sure the Bears looked horrible last week in Tampa Bay (38-3) loss but that's a really good team in what has become a very tough place to play.
There's no way Chicago should be +4 point underdogs at home to San Francisco coming in from the West coast for an early game. Expect the Bears to actually be reinvigorated without Nagy, who has become somewhat of a pariah in the Windy City as of late.
Free Pick: Chicago Bears +4