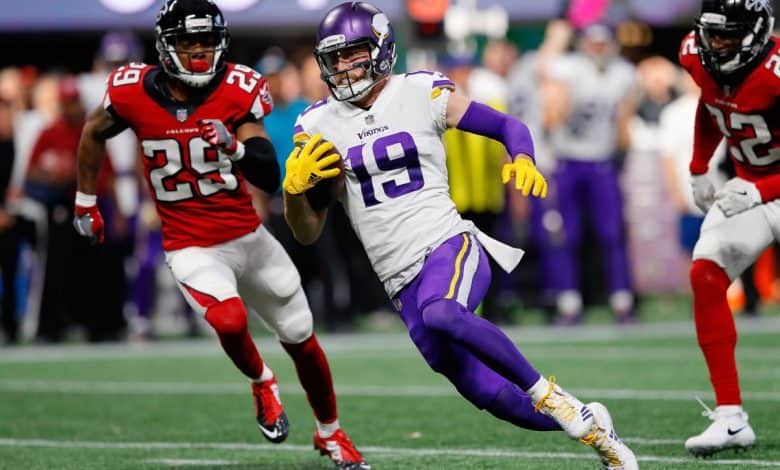 Sunday's week 6 Falcons at Vikings betting matchup provides a fresh start for Atlanta. The 0-5 Falcons fired head coach Dan Quinn and GM Thomas Dimitroff this week, letting defensive coordinator Raheem Morris man the helm for the interim. 1-4 Minnesota could see some similar jobless claims if they were to fall at home in this meeting.
The Vikings are -4 point favorites at home, but they are 0-2 at U.S. Bank Stadium this season. Minnesota will be without RB Dalvin Cook (groin) however, in what had been the league's #4 ranked rushing offense with over 160 yards/game.
Are the Falcons rejuvenated with a new coaching perspective, or are fans in the South fine going winless after seeing a certain QB from Clemson throw 5 TDs in the 1st half yesterday?
Atlanta Offense Sputtering Too
The problems with the Atlanta defense are well-documented, as they have already blown two 15 point 4th quarter leads this season. The Falcons could try and rely on their offense to pull out 40-38 type games, but recently that side of the ball has been grounded too.
Atlanta has managed just 16 points the last two weeks, falling 30-16 in Green Bay as +5 point favorites and dropping a 23-16 contest at home last week to Carolina as -2.5 favorites. Matt Ryan has just 1 TD to 3 INT over the last three games, but could get Julio Jones, who has missed two of the last three, back in the lineup(probable-hamstring).
Of course even if the Atlanta offense does return to form with Dirk Koetter back in the play-calling driver's seat, the problems still remain with their defense. Teddy Bridgewater was a sniper last week, going 27-36 for 313 yards and the Panthers added another 124 yards on the ground. Aaron Rodgers had similar numbers two weeks ago, going 27/33 for 327 with 4 TD and 0 INT. The Falcons have the second-worst pass defense in the league.
Big Day for Cousins
All eyes are on Kirk Cousins heading into Falcons at Vikings betting. The QB faces an atrocious Atlanta pass defense, but is also without his security blanket in the backfield with Cook out. Cousins has been better in the last two, completing 69.2% of his passes against Seattle (27/39) and 72.7% the week before against Houston (16/22).
Minnesota is actually dangerously close to coming into this game on a 3-game win streak. The Vikings fell 31-30 to Tennessee three weeks ago on two 54+ yard field goals late in the 4th quarter from Stephen Gostkowski. Minnesota toppled Houston 31-23 on the road in week 4, and last week dropped a 27-26 contest in Seattle on a D.K. Metcalf touchdown with 0:15 left.
One thing to note about the Seattle loss last week is that Alexander Mattison came in and ran the ball 20 times for 112 yards after Cook went down so the running game could still be there on Sunday. The Vikings secondary faces a tough test with Jones back in the lineup for Atlanta, but they held Russell Wilson to 20/32 for 217 last week, albeit with 3 TD passes.
Falcons at Vikings Betting Free Pick
It's going to be a big day for the Vikings offense through the air, and possibly even on the ground the way Mattison ran last week. You have to think Atlanta is going to get theirs too though Jones back on the field and Koetter free to run the plays as he sees fit after Quinn's firing. This game is probably closer than expected, but it should also be very high scoring.
Vikings 34 – Falcons 30
Free Pick: Over 54