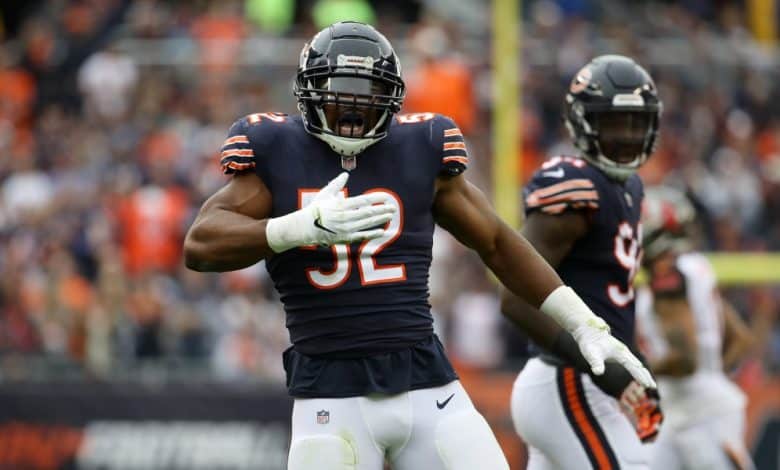 The Windy City heads to Sin City as 35-40% of fans in the Week 5 Bears at Raiders matchup have an IL zip code according to TickPick. There's a lot going right for Chicago heading into this game from a contingency of fans in attendance to Las Vegas being on a short week after losing to the Chargers on Monday night to it being the revenge game for Khalil Mack who spent his first four years with the Raiders.
The Raiders are -5.5 favorites for Sunday afternoon's tilt and 2/3 of the public bettors like Las Vegas in this spot. Some people might think Las Vegas was exposed in their 28-14 loss to the Chargers on Monday but then again that was also the first defeat of the season for the Raiders.
Fields Time for the Bears
It's definitely been a confusing week in Chicago. Coach Matt Nagy went from saying Andy Dalton is his starting QB when healthy to flip-flopping that and naming rookie Justin Fields the man under center for the duration of the season. Nagy also refused to discuss play calling duties, but the offense looked good with Bill Lazor calling the shots last week in a 24-14 win over Detroit.
Lazor is definitely a more run oriented play caller than Nagy which Chicago fans have been wanting for the last 2-3 years. That Bears run offense takes a huge hit with David Montgomery heading to the IL with a knee sprain however. Montgomery had 106 yards and 2 TD last week, but now former Chiefs RB Damien Williams gets to be the workhorse. Williams had 8 carries for 55 yards and a score vs. Detroit, and LV does have the #23 rush defense in the NFL (132.3 ypg).
Chicago's defense has to travel to face the #2 pass offense in the NFL, but Las Vegas throwing a lot could actually benefit the Bears who lead the NFL with 15 sacks. That includes 4 from former Raider Khalil Mack and 4.5 from Robert Quinn in a resurgent year.
Raiders Ready with the Short Turnaround?
Las Vegas is 3-1 after the loss to the Chargers on Monday, but is that record a mirage? Two of the Raiders wins have come against Baltimore and Miami at home in OT and there other was a 26-17 visit to what looks like a not very good Steelers squad.
The Raiders looked like they were believing their own hype on Monday night in coming out flat and going into the half down 21-0 to the Chargers. A lot of the perceptions about Las Vegas changed in one game, especially that of their passing game being dominant as Derek Carr had a season low 196 yards passing. Carr still does have 8 TD in four games as well as 380+ pass yards in three of four.
Las Vegas gave up 235 yards passing and another and another 86 on the ground to Lamar Jackson in the season opener and now they face another mobile QB in Fields. Obviously the fact that Fields is a rookie and Jackson a former MVP matters, but is facing versatile QBs also a potential weakness for the Raiders defensive system?
Week 5 Bears at Raiders Pick
Chicago seems to come out as a different team each week, so we'll see if that holds true in Las Vegas as the Bears have lost by 20 points in each of their first two road games this year. Fields is going to have some growing pains on the road and he loses a huge asset with Montgomery on the sidelines.
All that being said, 5.5 is too many points for the Raiders to be giving on a short week. The Bears secondary has their issues, but the pass rush of Mack, Quinn, and Co. help hide those deficiencies a bit. Damien Williams faced the Raiders a lot when he was a member of the Kansas City Chiefs, and the RB will be the x-factor in this contest.
Raiders 24 – Bears 20
Free Pick: Bears +5.5