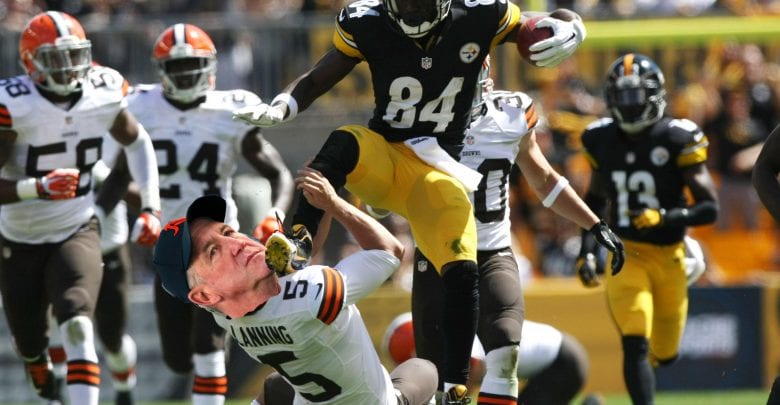 For the NFL Week 3 early games free pick we see the Pittsburgh Steelers travel to Chicago to take on the bumbling Bears. On paper, this seems like an easy business trip for the Steelers but yet oddsmakers have made them 'only' a -7 favorite on the road. Bears fans will tell you this number seems low as they've completely lost faith in their team, their coach, and especially their embattled QB Mike Glennon.
Their could be a solid play on today's total however. Pittsburgh and Chicago are two teams where you instantly think running game and strong defense yet the over/under is set at what seems like a relatively high 44 – after opening at an even higher 46. Is that way too high and an easy under to bet on – or are we falling for the trap?
Pittsburgh's Role In the Over / Under Bet
Pittsburgh has scored over 20 points in both of their wins to start the year, a 21-18 scraping by of Cleveland in week one and a 26-9 victory over the Sam Bradford-less Vikings last week. The passing game has been on point as Ben Roethlisberger has thrown for 263 and 243 yards respectively but one of the biggest questions of the NFL season thus far is what's wrong with RB LeVeon Bell? Fantasy owners around the world are in a tizzy as Bell has run for only 32 yards in 10 carries in week one followed by 87 yards on 27 carries last week.
Chicago's defense has performed much more admirably than their 0-2 record and 26.0 PPG statistic would indicate. The Bears are 8th worst in the NFL allowing 341.5 YPG total, broken down to 251.5 in the air and 90.5 on the ground. Chicago's defense is simply on the field too long thanks to their offensive woes – it's something Roethlisberger, Bell, and Antonio Brown are licking their thick crust pizza covered chops about for the NFL week 3 early games free pick.
Please tell your defense we are rooting for them to pick off Glennon early so we can put Trubisky in and crush you guys.#TrubiskyNOW

— Deplorable Ryan (@ryan_mcgahan) September 24, 2017
Can Chicago Score Against the Tough Pittsburgh Defense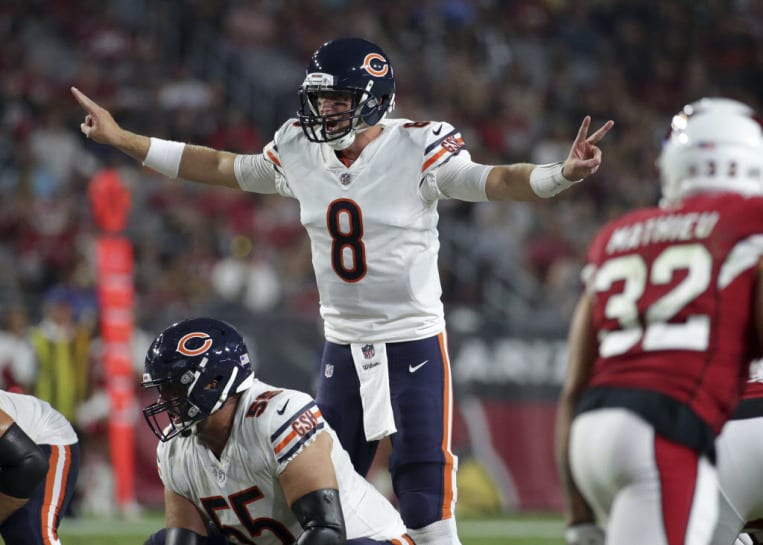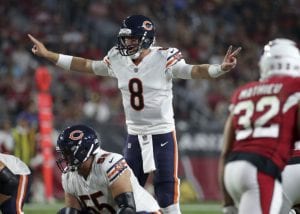 While promising rookie Mitch Trubisky has been delegated to clipboard duty thanks to the stinginess of Chicago coach John Fox, Bears fans have been forced to endure Mike Glennon. Check downs are his check mate even though the Bears are in the top half of the NFL in passing at 233.0 YPG. It's the Bear running game that has actually been the source of their offensive woes. The team is 7th worst in the NFL in ground attack (72.5) and supposed breakout star Jordan Howard only has 59 yards on 22 carries as he's battled shoulder injuries.
So how does the Pittsburgh defense stack up against the one dimensional at best, Chicago offense? The Steelers have the third best total yard defense in the league giving up only 237.0 YPG. Their passing game is allowing only 163 per and the rush defense has been stout at 74.0 YPG. Their opening opponents haven't been the best in Cleveland with a rookie QB and the Vikings with an injured Bradford – but are the Bears in this NFL week 3 early games free pick much better?
I don't really care if players #TakeAKnee today, but if it could get a player fired, I hope Mike Glennon decides to take a stand.

— Jordan (@JMYChi) September 24, 2017
NFL Week 3 Early Games Free Pick
This total seems innately high for two teams that have combined to go 0-4 O/U on the season. 70-76% of bettors are on the Steelers which says the game could have blowout potential. The under is the easy play – too easy. If the Steelers offense churns out to a big lead and the booing of the Chicago fans forces Fox to put Trubisky in for some garbage time points we could be seeing a 34-17 game. Our pick today is totally an against the grain, contrarian play that you don't have to protest.
Pick: Pittsburgh / Chicago "over" 44