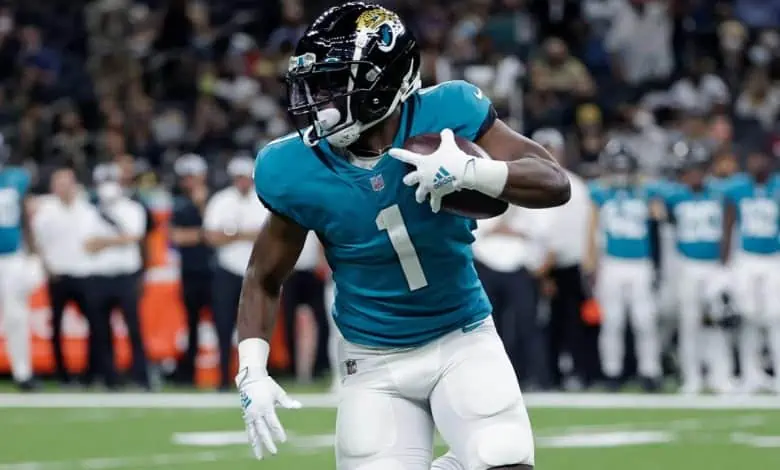 Sure things don't really matter until the bright lights come on in the regular season opener, but Jacksonville fans look like they're in for another long season after the team has started off 0-3 in the exhibition. There's one last chance to break into the win column in the preseason Jaguars at Falcons matchup.
Atlanta had a winless preseason in 2021 going 0-3 under Arthur Smith, but the Falcons are 1-1 in 2022 – their first exhibition victory in four years. Atlanta's first two preseason games were on the road so this will be the first time the hometown fans get to see them, That could have something to do with Atlanta being a -6.5 favorite on Saturday, as could the fact that the Jaguars plan on resting most of their starters.
Jaguars Offense Not Great
Jacksonville had an extra exhibition contest this year playing in the Hall of Fame Game. While that may pay dividends early in Doug Pederson's first season as head coach of the team, it hasn't so far with the Jaguars going 0-3.
The phase of Jacksonville that looks especially bad is their offense as indicated by averaging 13 ppg. Trevor Lawrence is the obvious focal point of this attack, and he's gone 20/33 the last two games with a TD. Lawrence and many of the other Jacksonville starters will not play in the preseason Jaguars at Falcons matchup meaning it's C.J. Beathard and E.J. Perry splitting the reps.
Beathard is an experienced NFL quarterback entering his second year with Jacksonville so he'll give the Jaguars some first half potential – but he also won't have his top three receivers suiting up. Perry just rejoined the team two weeks ago so it wouldn't be a shocker if he struggled.
Falcons QBs Will Be a Good Watch
It's the final tune-up for Marcus Mariota as he prepares to be Atlanta's starting QB in the regular season opener. Mariota is entering his 8th NFL season, but he also hasn't started since 2019 so he could use a few extra reps on Saturday.
What fans are really excited to see against Jacksonville is a couple of young QBs, most notably 3rd round pick Desmond Ridder out of Cincinnati. Ridder threw 30 TDs last season with the BearCats and is 20/35 for 246 yards and 2 TDs in the exhibition.
When Ridder exits, Feleipe Franks is another interesting QB to watch. He's a dual-threat that had 45 yards on the ground last week in a 24-16 loss to the Jets. RB Tyler Allgeier is another promising rookie that Atlanta likes and he should get plenty of carries.
Free Preseason Jaguars at Falcons
Jacksonville would have had a hard time staying in this game regardless, but with Pederson resting his starters this one looks all Atlanta. The fact that the Falcons are playing at home after being on the road their first two preseason games doesn't hurt either.
Pick: Falcons -6.5