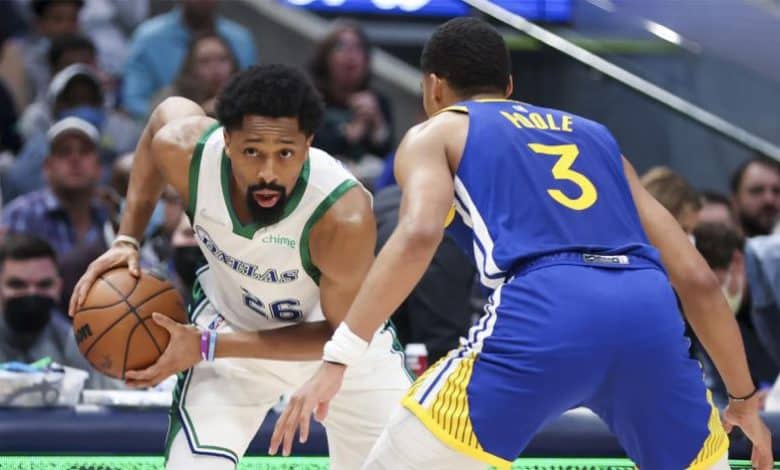 Although it's not going to make up for losing last year's Western Conference Finals 4-1, Dallas would still take a win in Tuesday's Warriors at Mavericks betting matchup. Jason Kidd's squad has lost four in a row and five of their last six as they've slipped to 11th in the conference.
Golden State is just 2-9 on the road this season, and their 11-10 record has them in 8th in the West. The Warriors look like they're getting hot though, winners of three straight and five of their last six. That trouble on the road looms large, but GSW is still a -1.5 favorite in this spot and over 70% of the public like the Warriors.
Warriors Getting Balance Lately
Steph Curry is still second in the NBA at scoring at 31.4 ppg, but one of the reasons that Golden State has won five of their last six has been contributions all through the lineup. Klay Thompson has hit 11-20 three pointers the last two games, Andrew Wiggins dropped 31 to lead a win over the Clippers last week, while Jordan Poole had 24 in a win over the Timberwolves on Sunday.
Of course it's not like Curry is struggling either, he's gone for 30+ in three of the last six games including a 50-burger on November 16th vs. the Suns. The Warriors and Dallas rank 9th and 10th in offensive efficiency this season.
It's Golden State's defense that has been their issue this season, giving up 117.3 ppg (27th) and ranking 22nd in efficiency. They've been better over their three game win streak against the Clippers, Jazz, and Timberwolves, we will see if that continues in Warriors at Mavericks betting.
Mavericks Try to Slow Things Down
Tuesday's game marks a real conflict of styles, as Golden State runs the second fastest pace in the league while Dallas utilizing the slowest tempo. Because of that the Mavs don't score a ton of points (109.1) but they don't give up a lot either (107.3).
Golden State was able to advance past the Mavericks last postseason because Dallas got cold, shooting 43.7% to 51.8% for the Warriors. The Warriors return all their main components from last year's championship winning unit, but Dallas has somewhat struggled to replace Jalen Brunson who averaged 18/4/4 in the conference finals last year but 21.6 over the entire postseason run. Brunson signed with the Knicks in the offseason.
The Mavericks obviously still have Luka Doncic, who leads the league in scoring at 33.1 ppg. Spencer Dinwiddie has only gone for 20+ once in the last seven games though, while Christian Wood has upside – but is also inconsistent.
Free Warriors at Mavericks Betting Pick
This game really comes down to which team falls into their opponents style of play. Dallas wants to slow things down while the Warriors want to spread out and run. The total has gone over in 15 of the last 21 head to head meetings, which kind of points to the Warriors being able to dictate the pace. That's an obvious advantage.
Free Pick: Warriors -1.5