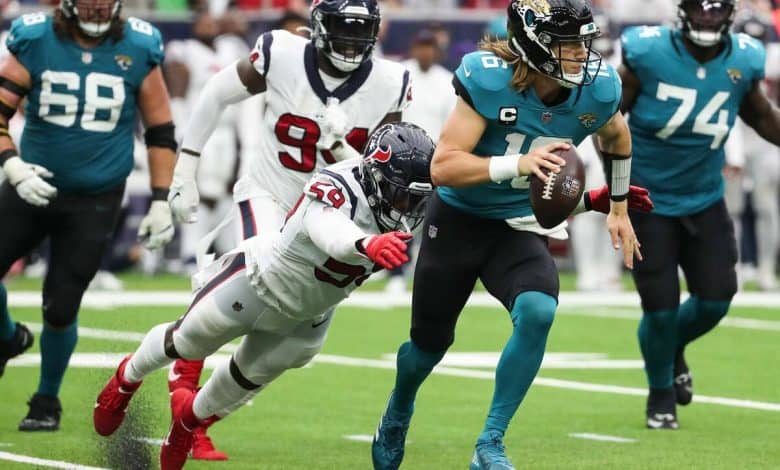 The week 17 Jaguars at Texans betting matchup might be the hardest one to handicap for the entire slate. On one side you've got Jacksonville (7-8) in a meaningless game, because regardless of what happens on Sunday next week's home game against the Titans is what will determine the AFC South.
Houston (2-12) could also go without winning this game, as they're currently holding onto the #1 draft pick which just became more valuable with a standout performance from Alabama QB Bryce Young on Saturday night. That being said the Texans only need to lose one of their two remaining games to clinch the #1 pick, and they may just want to continue their recent dominance over Jacksonville, who they've beaten 9 straight times.
How do Jags' Approach Sunday?
Jacksonville coach Doug Pederson has said he's approaching the Jaguars at Texans betting matchup like it's a "regular game." There are two schools of thought regarding that 1) you don't want to disrupt the momentum of a three game win streak but also 2) you want everybody fresh and healthy for the "AFC South Championship Game" next Sunday.
There's no doubt the Jaguars have looked good the past month, starting with a 36-22 win at the Titans, coming from behind to beat Dallas 40-34 in OT, and then toppling the Jets 19-3. One of the reasons Pederson will at least approach the 1st half in Houston in a competitive manner is because the win over New York was a Thursday night game, so the Jags would have nearly 2.5 weeks of essential down time prior to the finale against the Titans.
Trevor Lawrence is playing well for the Jaguars, having a 3,749 yard season with 24 TDs to just 7 INTs. The former #1 pick had 7 TD passes in the wins over the Titans and Cowboys, and he's showing vast improvement from a 12 TD, 17 INT rookie season last year.
Texans to Soon Get Their QB of the Future?
Whether it ends up being Young out of Alabama, Will Levis from Kentucky, or C.J. Stroud out of Ohio State, Houston seems like they will soon get their franchise QB. The Texans only need to lose one of their final two games to clinch the top spot over the Bears, but the big question is do they do that this week – or next week against the Colts?
It would make sense that Houston would prefer a win on Sunday because it would push their win streak over the Jaguars to 10 straight games and it would also give the hometown fans one last opportunity to see a victory. Next week's Texans game is in Indianapolis.
Houston also hasn't been playing bad for a 2-12 team, doing the Jaguars a favor with a 19-14 win over Tennessee last week, and falling 30-24 in OT to the Chiefs the week prior which followed a close 27-23 defeat at Dallas. Say what you want about Lovie Smith as a head coach, but at least he has his team playing hard late even in a lost season.
Free Jaguars at Texans Betting Pick
64% of the public still like Jacksonville on Sunday, thinking they are going to approach the Texans like a normal game. You can't take that as Gospel though, and with the Texans playing well the last three contests while also dominating the Jags' the past four years Houston is the play.
Free Pick: Texans +3.5