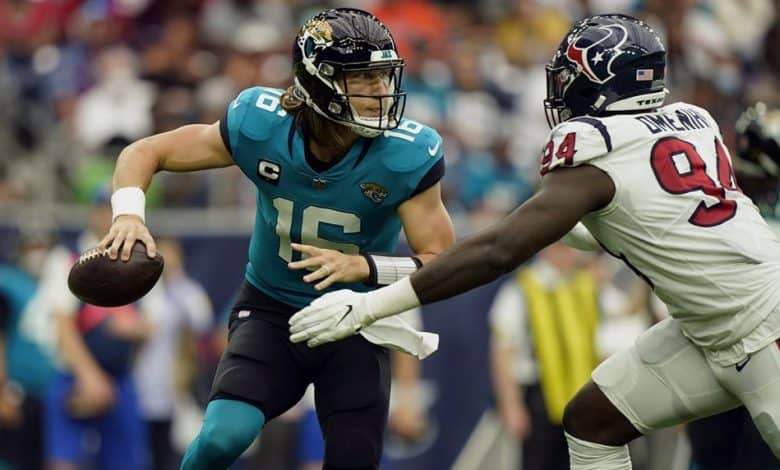 The week 15 Texans at Jaguars betting matchup is a rematch of the season opener that Houston won 37-21 as +3.5 underdogs. It wasn't a huge surprise that Jacksonville lost that game in the NFL debuts for both #1 pick Trevor Lawrence as well as head coach Urban Meyer.
What is shocking is that Meyer won't be around for the rematch, getting his walking papers on Thursday as owner Shad Khan had finally seen enough. What is really interesting is that the line in this game jumped from JAX -3 up to JAX -5.5 after Meyer was fired, meaning the Jags actually get a boost without their controversial coach. Houston has gone 1-11 since that opening day win, but they have to have a little value here don't they – it's still the Jaguars.
Does Houston Even Want This One?
Obviously Texans coach David Culley would like to pick up his third NFL win on Sunday, but the elephant in the room is that a loss would be more productive for both teams in the big picture. Right now Detroit (1-11-1) is in line for next year's #1 draft pick, but the loser of the week 15 Texans at Jaguars betting matchup would be in the driver's seat to pick 2nd – or even 1st if the Lions could pick up another win.
Houston's 22-13 win in Tennessee in their last road game definitely sticks out as a team that is not trying to tank, but that was also in week 11. Since then the Texans have lost to the lowly Jets at home as -2.5 favorites and have then been outscored 64-13 in losses to the Colts and Seahawks also at home.
The good news for the Jaguars is that they don't have to face Tyrod Taylor in this one, as he's been benched for the remainder of the year so the team can evaluate rookie Davis Mills over the final month. Taylor shredded the Jacksonville defense in the season opener, throwing for 291 yards (229 in the first half) and 2 TDs as Houston amassed 449 yards.
Redemption for Lawrence
Who knows, maybe the rookie season turns out different for Trevor Lawrence if he didn't get off to such a downtrodden start vs. the Texans, throwing for 332 yards and 3 TDs, but also three crucial INTs. A lot of that production came in the 2nd half too after the Jaguars were already down 27-7.
There's been some development for Lawrence throughout this season, but his bookends of games this year don't look remarkably different. Lawrence had 3 INTs in the season opener, and last week threw for 221 yards with 0 TD and 4 INT in a 20-0 loss to the Titans – his worst graded game of the year.
There are two good things working for Lawrence on Sunday though – the first being that Meyer is gone and the QB was reportedly not a huge fan. Second this is the Texans, a team ranked 30th defensively in total yards (384.7 ypg) and last vs. the run (147.9 ypg). Seattle's Rashaad Penny ran the ball 16 times for 137 yards last week vs. the Texans, so maybe Jags RB James Robinson will have more than the 6 carries for 4 yards that he did last Sunday.
Free Week 15 Texans at Jaguars Pick
In what should be a tank game for both teams, Culley has an opportunity to get a rare win for Houston but Darrell Bevell wants the W as the interim coach for Jacksonville as well. Expect the Jaguars to look really inspired without Meyer, a win the week he was fired being the final "shove it" to the guy mainly responsible for this nightmare season.
Jaguars 27 – Texans 21
Jaguars -5.5