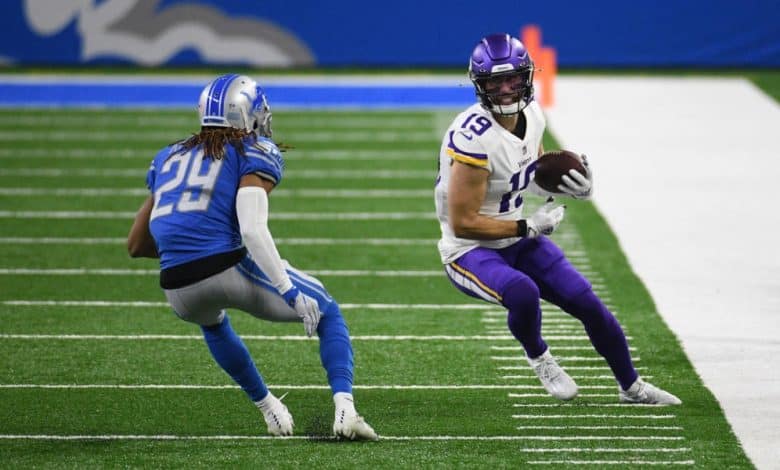 Minnesota is in the hunt for home field advantage throughout the playoffs at 10-2, just a game back from 11-1 Philadelphia. That being said, they are still +2.5 road underdogs in week 14's Vikings at Lions betting matchup.
Detroit has shown improvement lately winning four of their last five, but is being a favorite against the team with the second best record in the NFL justified? These two teams generally play each other close, with the last four games being decided by a total of 10 points, and with tight situations like that you'd usually take the points yet 65% of the public likes Detroit.
Vikings Can Claim the North
Minnesota can clinch the NFC North with a win in the Vikings at Lions matchup, as they're currently up five games on 2nd place Detroit with five to play. The Lions had Minnesota on the ropes in their first meeting of the season, taking a 24-14 lead into the 4th quarter before the Vikings scored 14 unanswered for a 28-14 win.
Regardless of who comes out on top here, it's probably not going to be a blowout. Minnesota's 4 point win over the Lions in week 3 was the largest in the last two years, with the three previous games all decided by 2 points. The Vikings' last nine wins this season have all been by one score as well.
Whenever you place Minnesota the #1 mission is to stop Justin Jefferson, which Detroit did a good job of holding him to a season low 14 yards in the first meeting. Kirk Cousins has also thrown for fewer than 200 yards in two of the last three games so the Vikings offense could be sputtering a bit.
Lions Learning to Win
Detroit has won four of their last five, with the lone loss over that span being a 3-point defeat to the AFC leading Bills 28-25 on Thanksgiving. With this recent success, it really makes the Lions regretful of some close losses earlier in the season such as 38-35 to the Eagles, 48-45 to Seattle, 31-27 to Miami and of course the 4-point loss to the Vikings.
What the Lions have learned to do lately is win those close games such as 15-9 over Green Bay and 31-30 against the Bears. They've also played much better defense holding three of the last five opponents to 18 points or less when no team scored less than 27 in the first 27 games of the season.
Detroit had their most complete game of the year last week in a 40-17 win over the Jaguars. The Lions defense held Jacksonville to just 266 total yards while Jared Goff threw for 340 yards with Amon-Ra St. Brown catching 11 balls for 114 yards and 2 TDs. Goff has 8 TDs to just 1 INT over his last six games.
Free Vikings at Lions Betting Pick
Detroit might not be as bad as their 5-7 record indicates while MInnesota's 10-2 mark might be a bit of a mirage as well. Both these teams play very close games nearly every week, and although Minnesota +2.5 looks like a trap, three of the last four head to head games have been decided by 2 points.
Free Pick: Vikings +2.5