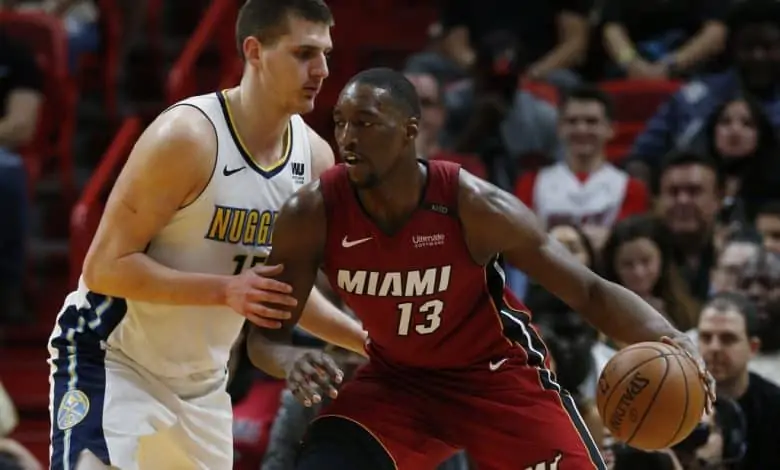 The November 8th Heat at Nuggets matchup looks like a good one as oddsmakers have made Miami the -2 point favorites on the road. The Heat have roared out of the gate at 7-2 on the season, the second best record in the Eastern Conference.
Denver is battling through the Jamal Murray knee injury this season and they're just 5-4 to begin the year. Michael Porter, Jr. will also be out for Monday's game as he undergoes testing for a back injury. Denver may actually be better without him however as Porter, Jr. has been a chemistry killer this season.
Heat to Take Down Another West Power?
Miami had a rough one last Thursday when they dropped a 95-78 loss at home to Boston as -6.5 favorites. The Heat shot just 35% from the floor in that game but bounced back with a 118-115 win over Utah on Saturday as Miami shot 60% from the floor (47-78) against the #4 defense in the NBA.
Tyler Herro went for 29 off the bench vs. Utah as he was 6-8 from beyond the arc. Jimmy Butler had 27 vs. the Jazz for his fifth straight game going for 20+ points. Kyle Lowry also had his best game as a member of the Heat, going for 20/12/10 to tally the triple double.
Miami has their hands full in the November 8th Heat at Nuggets matchup against Denver C Nikola Jokic. Miami has been great vs. the big man this season though, most recently holding Utah's Rudy Gobert to 8 points and just 8 rebounds, the first time the Jazz center has been held to single digit rebounds this season.
Denver Better Without Porter, Jr.?
The Nuggets will be even more shorthanded on Monday with Michael Porter, Jr. on the sidelines getting tested for a back injury, but there are some Denver fans that think the team will be better without him. A missed layup on a 3 on 0 fast break in which Porter, Jr. refused to pass the ball ahead was the defining moment of his 2021/22 season so far.
PJ Dozier steps into the starting lineup on Monday night which does thin the Nuggets bench a bit. The good news is that Monte Morris is probable with a knee injury so Denver won't have to get down to a 3rd string PG with Murray remaining out possibly for the season with a knee injury.
Like every Denver game, Monday's success relies on how well Jokic plays. The big man went for 28 points and 14 rebounds on Saturday as the Nuggets somewhat unexpectedly had to squeak out a 95-94 home win over Houston as -11.5 favorites. Jokic has 23+ points in 8 of the last 9, and has 7 double-digit rebounds over that span.
November 8th Heat at Nuggets
The Heat looked good on Saturday in beating the Jazz even if they gave up a 37 point night to Donovan Mitchell. The Miami defense made Rudy Gobert a non-factor and if they can do that against Jokic Denver doesn't stand a chance.
The Heat have the #3 defensive efficiency in the NBA, but Denver is 2nd in that category. Monday night's O/U is just 205 points so oddsmakers are expecting both defenses to show up. About 60% of the public like Miami, and ultimately they are the deeper team in this matchup.
Heat 107 – Nuggets 103
Free Pick: Heat -2