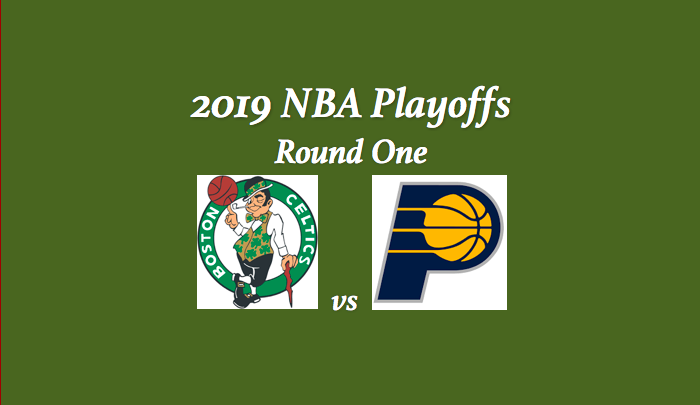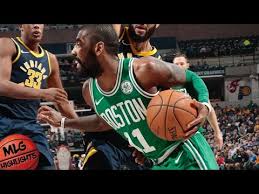 Our 2019 Boston Celtics vs Indiana Pacers preview features the NBA East's 4th and 5th seeds. This Boston Celtics vs Indiana Pacers preview notes that in their last 10, Indiana went 4-6 and, over the same time, the Celtics were 6-4. The Boston Celtics (49-33) finished third in the Atlantic Division, while the Indiana Pacers were a distant second in the Central, which includes the NBA's top team, the Milwaukee Bucks.
The two teams met four times this season. The Celtics lost the first game, but then took the three remaining contests. The series tips off at 1:00 pm ET on Sunday, April 14. The first two games will be played in Boston at the TD Garden, and the second two will be played in Indianapolis at the Bankers Life Fieldhouse.
Celtics vs Pacers Playoff Preview – Stats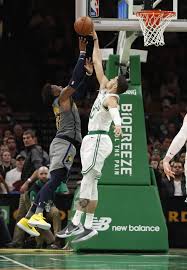 The Celtics are averaging 112.4 PPG, while the Pacers are good for 108.0 PPG. Boston D is allowing opponents 108.0 PPG, giving them a +4.4 PPG/OPPG. When it comes to points allowed for Indiana, the Pacers are allowing opponents just 104.7 PPG. That's the lowest average of any team in the NBA. That makes the team +3.3 and gives Boston a very slight +1.1 PPG/OPPG edge.
The Celtics and Pacers are very close in all stats, in rebounding 44.5-43.0 Boston, assists 26.3-26.0 Boston, and shooting percentage 47.5% -46.5% Indiana. In the area of twos, the Celtics lead 52.7% to 51.7% and in threes, it's the Pacers who are a tad better, 37.4% to 36.5%. The one major area where Boston is heads and tails above Indiana is free throw shooting. The Celtics top the Pacers at the charity stripe, 80.2% to 75.2%
Boston Celtics vs Indiana Pacers – Players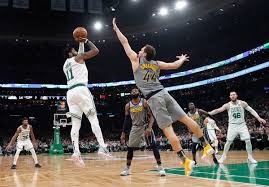 For Boston, PG Kyrie Irving (23.8 PPG, 6.9 APG, 48.7 FG%) leads the team in points and assists. Plus, Irving, averaging 5.0 RPG, is a tenacious rebounder and a fine defender. SG Jaylen Brown (13.0 PPG, 4.2 RPG, 46.5 FG%) offers premium firepower. Boston has fine depth in the backcourt with guards Terry Rozier and Marcus Smart. Our Boston Celtics vs Indiana Pacers preview notes that in the paint, the trio of SF Jayson Tatum (15.7 PPG, 6.0 RPG, 45.0 FG%), center Al Horford (13.6 PPG, 6.7 RPG, 53.5 FG%), and PF Marcus Morris (13.9 PPG, 6.1 RPG, 44.7 FG%) are top-notch.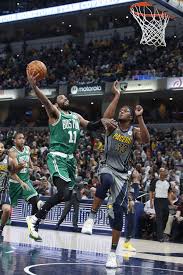 The Pacers are without their top point scorer and backcourt assist-man, SG Victor Oladipo (18.6 PPG, 5.3 APG). PG Darren Collison (11.2 PPG, 6.0 RPG, 46.7 FG%) is the team's go-to guy in the backcourt for playmaking, while SGs Wesley Matthews (10.9 PPG, 2,4 APG, 38.6 FG%) and Tyreke Evans (10.2 PPG, 2.4 APG, 38.9 FG%) help make up for the loss of Oladipo. In front, SF Bojan Bogdanovic (18.0 PPG, 4.1 RPG, 49.7 FG%) leads the group that includes PF Domantas Sabonis (14.1 PPG, 9.3 RPG, 59.0 FG%) and center Myles Turner (13.3 PPG, 7.2 RPG, 48.7 FG%). This is a solid trio in the paint.
Keys to the Celtics vs Pacers Series
Al Horford's health essential to Celtics
Backcourt edge goes to Boston
Frontcourt looks like the deciding battle in this series
Foul shooting could decide close games, Boston's advantage
Home court wins essential
Boston Celtics vs Indiana Pacers Preview – Our Pick
Our Boston Celtics vs Indiana Pacers preview sees this series as being tight. Still, we do think that Boston has a slight advantage at the foul line, possessing home court, and in the guard spots. Our Boston Celtics vs Indiana Pacers pick is the fourth-seed Celts in seven games.
Summary – Boston Celtics vs Indiana Pacers Pick
Boston Celtics in 7 games