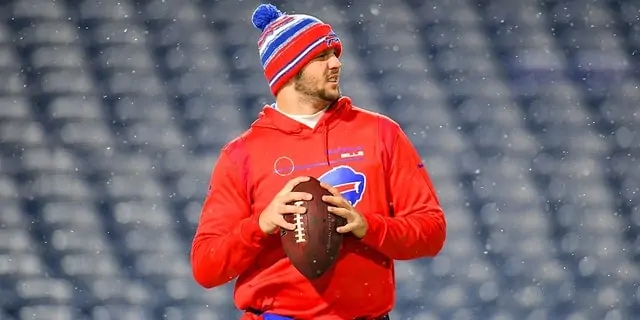 It's a short week for Buffalo heading into the week 14 Bills at Buccaneers matchup, but the conditions are going to be much better than Monday night's 14-10 loss to the Patriots as -3 point favorites. That was a cold and snowy night in Orchard Park against Tom Brady's former team, and now the Bills head South to face their former foe at his new home.
The Buccaneers had a couple rough outings, but look to be righting the ship in three straight wins in which they've also scored over 30 points in each. Tampa Bay can clinch the NFC South with a win and some help, and oddsmakers have them as -3.5 favorites in this spot. 58% of the public like the champs at that number.
Better Conditions for Buffalo
It was a cold, windy, and snowy Monday night game against the Patriots, in fact New England QB Mac Jones only threw the football three times all night. Bills QB Josh Allen was just 15/30 for 145 yards in the miserable conditions and Stefon Diggs led the team with 4 catches for 51 yards.
The good news is that forecasts are calling for temperatures approaching 80 degrees in the week 14 Bills at Buccaneers matchup. That Buffalo offense that was so frustrated last week should be better off since they had to struggle through the sludge last week. The Bills have also alternated wins and losses the last 8 weeks, a good sign coming off a defeat.
The bad news of course is that the Bills are coming off a loss in which they allowed just 19 passing yards. New England ran the ball for 222 yards and sure the elements have something to do with that, but Tampa Bay has the #2 total offense team in the league. Most of that comes from the NFL's top-ranked passing attack (311.1 ypg) but what did New England expose last week?
Brady Back in the Groove
Tampa Bay had a couple bad losses at New Orleans (36-27) and at Washington (29-19) and the talks of Tom Brady being too old fired back up. The last thing you want to do is anger TB12, because the Bucs have responded with three straight wins in which they're averaging 33 ppg.
Brady has 7TDs to 3 INTs over the three game win streak and he's completed 74% of his passes the last two games. Leonard Fournette had 100 yards rushing and 3 TDs in the 38-31 win at Indianapolis, Chris Godwin had 143 yards receiving last week, and Rob Gronkowski is starting to look healthy with 120+ yards receiving vs. the Colts and 2 TDs last week in a 30-17 win in Atlanta.
Week 14 Bills at Buccaneers Pick
Tampa Bay has looked great the past couple weeks and the fact that this spread is only -3.5 does kind of raise the senses a bit. Buffalo took a day to thaw out after the loss on Monday night and Tampa Bay is back home for just the 2nd time since October 24th. Four of the last five Bucs games have been on the road, so it looks like they're about to start getting back in the end of the year winning SZN.
Buccaneers 33 – Bills 26
Free Pick: Bucs -3.5