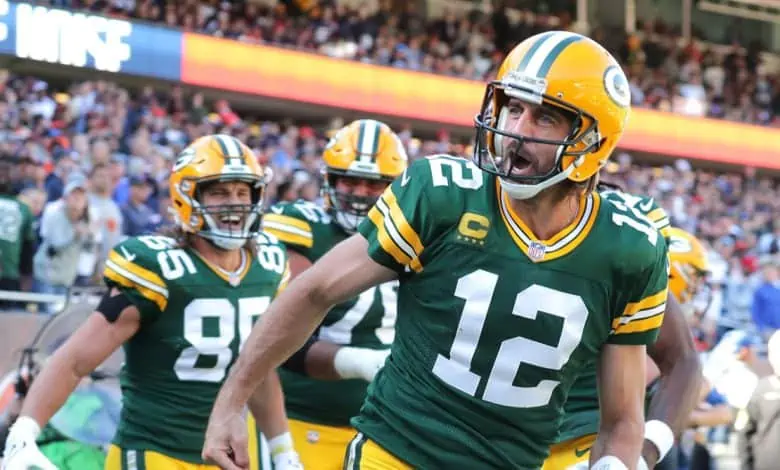 The main theme in the Packers at Bears betting matchup for week 13 is QB health. Aaron Rodgers famously "owns Chicago" but is also battling a thumb injury and had to leave in the 3rd quarter of last Sunday's 40-33 loss to the Eagles because or rib / oblique issues.
The Bears look set to welcome back Justin Fields under center after he missed last week's 31-10 loss to the Jets with an injury to his non-throwing shoulder. Fields likely wants to play in this rivalry game, and then possibly get shut down for the season to avoid further injury considering he's ran the ball 122 times this season. It's not the best day to try and come back from various body ailments with temperatures forecast for 31° at Soldier Field, but oddsmakers still like the Packers at -4.5 on the road.
Does Rodgers Still Own Bears?
Chicago fans have been waiting for this matchup since last October 17th when Rodgers scampered into the end zone for a 6-yard run and exclaimed to the Soldier Field crowd, "I own you. I still own you." Rodgers' TD run broke open a fairly close 17-14 game at the time as Green Bay went on to win 24-14 and cover the -5.5 number.
Rodgers' proclamation of Bears ownership may have been brash, but it's not completely inaccurate as Rodgers is 23-5 against Chicago in his career. That includes a 27-10 win at Lambeau Field earlier this season as Green Bay covered a huge -10.5 number with Rodgers going 19/25 for 234 yards and 2 TDs.
The Week 13 Packers at Bears matchup is probably the best chance Chicago has had in a long time to get to their nemesis Rodgers. The 4X MVP is not only going through thumb/rib/oblique injuries but his 9 INTs through 12 games is more than he's had in any full season in the last 11 years – and ties what he's had the last two years combined.
Chicago Defense Too Vulnerable
If you had Brian Urlacher, Lance Briggs, and Peanut Tillman on this Bears defense they'd be licking their chops at a chance to exact some revenge on Rodgers and the Packers for all the strife Green Bay has caused this team over the years. Instead though Chicago sends out Jack Sanborn, Nicholas Morrow, and Kindle Vidor on this defense that has allowed 30+ points in 4 of their past 5 games.
With safety Eddie Jackson going down with a foot injury last week that means Chicago will be missing three of their starting DBs on Sunday as Jaquan Brisker and Kyler Gordon are both still in concussion protocols. Even an injured 39-year-old Rodgers on a cold day likes the sound of that matchup.
You have to commend Fields for playing on Sunday when he missed last week's game, because not only is his shoulder injured – he's got to shoulder basically the whole offense vs Green Bay. The Packers have a very bad run defense, but Chicago loses a lot of their RB depth with Khalil Herbert still battling a hip injury. Leading receiver Darnell Mooney hurting his ankle last week and being lost for the season doesn't make Fields' job any easier.
Free Packers at Bears Betting Pick
Green Bay has won 7-straight in the series, and it's hard to see how they don't make that 8 consecutive with a win on Sunday. That's nothing horrible against the Bears who are in a rebuild and injured, but face it Rodgers really does own you.
Pick: Packers -4.5