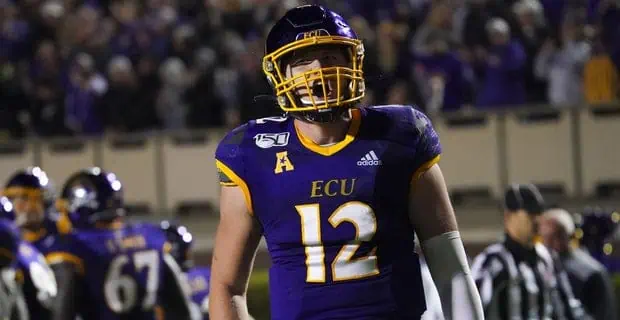 The 6-3 East Carolina Pirates are having their best season since 2014 but an old foe awaits them on Friday night in the 7-2 Cincinnati Bearcats. The Bearcats have won 10 of the last 11 head to head games between these two teams and are 5.5 favorites in the East Carolina at Cincinnati betting matchup.
Over 60% of the public likes ECU in this spot as they are on a four game win streak and have one of the better passing games in the country as well as an emerging rushing attack. The Bearcats are 4-0 at home this season though, so either way this should be a good one.
East Carolina Very Competitive
They'll take the 6-3 record, but ECU was very close to beating NC State in the opener missing a late field in a 21-20 loss. They also fell 23-20 in 2OT against Navy so this is a team very close to being 7-1 on the season. Of course there have been some close wins in there too like 47-45 in OT over Memphis and 27-24 at BYU over the last three weeks.
The East Carolina passing game gets a lot of hype, and for good reason as their 296.1 ypg is 17th best in the FBS. QB Holton Ahlers pirates this passing ship completing 70.1% of his passes on the season with 18 TDs against just 5 INTs.
Cincinnati is very good vs. the pass (180.9 ypg) but have been leaking vs. the run the last couple games. The Bearcats lost 25-21 to UCF in week 9 mainly because the Knights ran the ball 52 times for 258 yards (and also threw for 247). Last week Navy had 176 rush yards so with ECU's Keaton Martin running for 100+ yards with five straight games when he's healthy (with 9 TDs in that span) the Pirates have a chance to pound the ball here.
Bearcats Need One Here
Cincinnati did a nice job of bouncing back from the loss to UCF by beating Navy 20-10 at home last week but they were also -18.5 favorites. That could be considering two poor showings in a row for the Bearcats, who had a six game win streak snapped in the loss to the Knights.
Maybe Cincinnati is playing a bit lethargic the last two weeks because a 2-loss season is simply a huge disappointment. This is a team that has only had one loss in each of the last two years and went to the CFP in 2021. Cincinnati is currently third in the AAC with a 4-1 conference record, but could fall behind 3-2 East Carolina with a loss. The Bearcats do meet 8-1 Tulane in the regular season finale.
A two loss season obviously isn't the end of the world, and QB Ben Bryant has played well with 18TDs to 6 INTs on the season. Bryant is 3 yards away from back-to-back 300+ yard games and has 3 TDs and no picks the last two contests.
Free East Carolina at Cincinnati Betting Pick
The public likes ECU here and the Bearcats definitely have had their share of defensive issues the last two games. Cincinnati does have some value being 4-0 at home and due to the fact that they've won 10 of the last 11 head to head.
The number that really sticks out here is the 51.5 total. ECU is going to get theirs against this Bearcats defense and Cincinnati has the weapons to go blow for blow as well. This total looks at least a TD too low.
Free Pick: Over 51.5