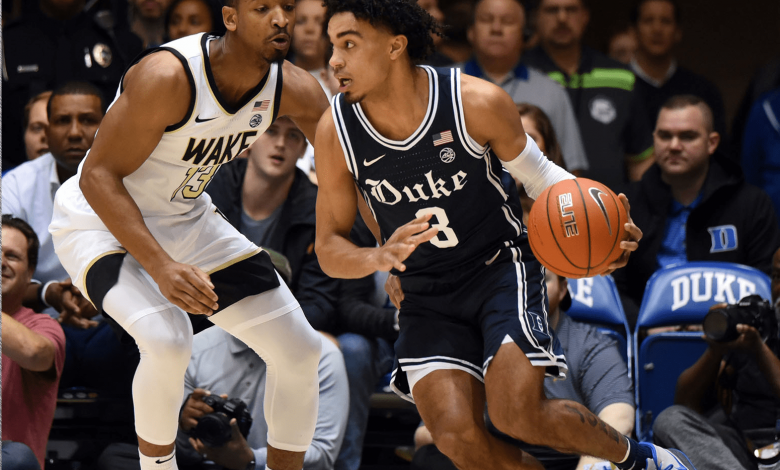 Two Atlantic Coast Conference powers meet Saturday night in Cameron Indoor Stadium in a battle for first place. The No. 3 Duke Blue Devils (15-2, 5-1 ACC) host the No. 11 Louisville Cardinals (14-3, 5-1 ACC) in their first and only scheduled meeting of the season.
Here is a preview of Saturday night's big game, along with odds and a free pick.
By The Numbers
We'll start with Louisville, which bounced back nicely from back-to-back losses against ranked Kentucky and Florida State. The Cardinals went on to win three straight versus Miami, Notre Dame and Pittsburgh, adding to their season resume that also includes a win over Michigan.
The Cardinals are averaging 74.6 points per game, 118th in the nation, on 46.1 percent shooting. But their defense is solid, allowing 61.6 points per game while also averaging just under three blocks and steals a night.
Duke's nine-game win streak was snapped on Tuesday with a 79-72 loss at Clemson. But now the Blue Devils return home to continue their solid season in which they've already beaten Kansas and Michigan State, among others.
The Blue Devils are sixth in the nation with 83.1 points per game on just under 49 percent shooting. They also are a solid 59th in points against with an average of 63.3 allowed. Among other high category rankings, Duke is also averaging 6.4 blocks and a whopping 9.4 steals.
Who To Watch
The Cardinals will be led by junior forward Jordan Nwora, who is averaging a team-high 20.4 points per game, twice as many as the next-highest teammate, while also shooting 44 percent from three. The sharp-shooting junior has the ability to make defenses pay, and will need to do so Saturday night to beat a very good Duke team.
In addition to Nwora, look for Dwayne Sutton and Steven Enoch to also play a role. Despite standing at just 6-5, the senior Sutton leads the Cardinals with 9.1 rebounds and 9.2 points. Enoch, a junior center, is averaging just under 11 points and seven rebounds along with a block per game.
The Blue Devils have a little more balance in their lineup, but they do have a standout in freshman center Vernon Carey Jr. Carey is averaging a team-leading 17.6 points per game on 60.5 percent shooting, along with 8.5 rebounds and nearly two blocks.
This freshman is another one on the list of first-year Duke players who are expected to be one-and-done before heading to the NBA.
But Carey is far from the only one Louisville has to be concerned about. Guards Cassius Stanley and Tre Jones are each having solid seasons, with the freshman Stanley averaging just under 12 points and shooting 44 percent from deep. Meanwhile, the sophomore Jones is second on the team in points with 15.1 but is also leading with 6.8 assists and 2.2 steals.
Odds and Pick
Despite both teams being tied atop the ACC, Duke is a sizable favorite at home. According to oddsmakers, the Blues Devils are -7.5 to rebound from their loss and take the win.
For Saturday night, Duke's depth is too hard to ignore. The Blue Devils have multiple guys who can go off, while Louisville is fairly limited to whether Nwora has a great game.
Carey gives Duke a nice advantage down low as well, and as a whole, its team has shown a strong ability to force turnovers. I think this has the potential to be a close game, but give me Duke -7.5 to bounce back and grab a solid win.