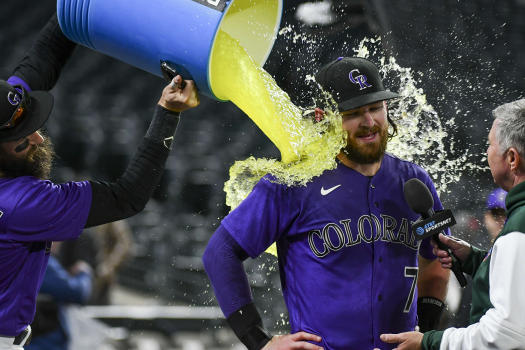 Now that's the Coors Field we all know and love. Colorado held on for a 13-12 win over the Marlins on Wednesday in the highest scoring game in Denver so far this season. Now that the calendar has turned to June, does that mean that Summer is officially here in the Rocky Mountains and the June 2nd Braves at Rockies betting matchup is going to be another high scoring affair?
Atlanta's offense could be in line to produce on Thursday night as they've scored 6+ runs in 6 of their last 9 games. They are just 5-4 over that span, but are still -150 favorites in this series opener. The run total is set at 11.5 so we will see if the sparks fly at Coors Field for the second straight game.
Braves Just Can't Get Rolling
The Mets are running away with the NL East and this race might get called in early August if not sooner. New York already has a 10.5 game lead over the Braves, who just can't seem to put a winning streak together at just 24-27 on the year. That includes going 5-5 over their last 10, and just 2-6 in their last 8 openers of a series.
Atlanta just dropped two of three in Arizona as they head to Colorado for a four game weekend series. The ball was jumping out of Coors Field on Wednesday as the Rockies and Marlins combined for 6 HRs. That's good news for Atlanta's Austin Riley who has gone deep four times in his last six games, including a 3-run shot in Wednesday's 6-0 win over Arizona.
Ian Anderson (3-3, 4.34 ERA) will try to keep his ERA from ballooning throwing in the tough atmosphere of Colorado on Thursday night. That's a tough order though as Anderson has allowed a total of 8 ER over his last two starts and gave up 4ER in just 3.0 IP in his only outing in Coors Field last season.
Encore for Rodgers?
It continued to be the Brendan Rodgers show on Wednesday, as he belted out three HRs and extended his hitting streak to 19 games – the most in Rockies history by a second game. Rodgers' hat trick shot was a walk-off in the bottom of the 10th to lead the Rockies to a 13-12 win and a split of the doubleheader.
The Rockies had 17 hits in the nightcap, but managed just three in losing the first game of the doubleheader 14-1. Colorado has now alternated wins and losses in their last six games, which would be leaving them up for a loss on Thursday night if that trend continues.
Atlanta batters have to be anxious to face this pitching staff that gave up 26 runs and 33 hits to the Marlins in the Wednesday doubleheader. The Rockies used 9 relievers on Wednesday as well as Randal Grichuk with the OF pitching the 9th inning of the first game. Austin Gomber (2-5, 5.21) starts Thursday night and is 1-2 with a 4.13 ERA at home this season.
Free June 2nd Braves at Rockies Pick
I don't know how you go any way but 'over' 11.5 here? The Marlins scored 26 runs on Wednesday and Atlanta offense has been producing pretty decently as of late. Anderson has struggled a bit too, so Colorado will get theirs as well.
Free Pick: Over 11.5